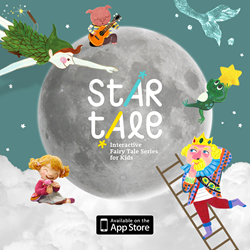 We wanted to develop quality reading apps for children that deliver high literary contents.
(PRWEB) January 19, 2015
Star Tale Website is a new interactive picture book brand by WiseKids, a children's app company. "We wanted to develop quality reading apps for children that deliver high literary contents," says the brand spokesperson. "It was important for us to focus on reading rather than playing games on a smart tablet. Our apps are created for children to experience stories, appreciate artwork and learn to love turning pages of a book."
Star Tale is unique in its development process, collaborating with professional artists and authors. This practice was cultivated to help talented individuals publish their work through a fair and safe partnership.
Unlike many other book apps, each Star Tale picture book app has its own unique artistic characteristics offering users a true variety of contents. The first launch includes 9 different apps for the fairy tale series including popular titles such as "Peter Pan," "Three Little Pigs," "The Little Mermaid" and more.
Rather than investing too much on technological distractions, Star Tale has aimed for multi-sensory experiences where children can read and listen to words, and admire original artwork. The apps also support 7 different languages, customized reading modes and even music and sound effects composed by a professional musician for each story.
Star Tale has finished establishing its own unique development infrastructure to enable easy production of book apps and is planning to release an original story series by the end of this year. The company is also offering discounts for its bundles of the Star Tale Fairy Tale Series.
Star Tales bundles can be purchased in the App Store.

To download the individual picture book apps, please click here.
About Star Tale:
A sub-brand of WiseKids, Star Tale was launched to create a new concept for digital book publishing, in collaboration with professional illustrators, designers and authors globally.
About WiseKids:
Established in 2010, WiseKids Corporation is the privately-owned company of Jay Kim, founder of Nexon Co., Ltd., a TSE-listed online gaming company. It was created to tap into the educational potential of smart devices, and provide creative digital content to children across the world.