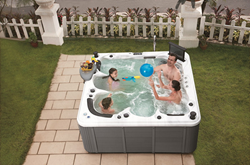 (PRWEB) January 07, 2015
The automatic and semi-automatic hot tubs (including indoor and outdoor hot tubs) from XC Spa provide many facilities to its customers and users. The jets and heating systems in the tubs make them the perfect source of aqua-relaxation therapy. Today, the business announces a promotion of hot tubs, and all its hot tubs are offered at discounted prices until Jan. 31, 2015.
A normal hot tub may not have the same number of jets as a similar model of a luxury brand has, but it doesn't mean that it would be less effective. The innovative spa products from XC Spa are popular in the global market.
"Our hot tubs are the best choice for relaxing the entire body, and users don't need to move too much and just stay amidst the water. The hot tubs aid in quick recovery from back-ache, shoulder-ache and overall body soreness," the sales manager says.
Actually, the company hopes to expand its market share through high quality spa products and some special offers. Now, the design team of XC Spa is ready to talk with potential clients about booking or to explain and recommend treatments. The staffs of XC Spa are friendly and helpful to customers.
In addition, XC Spa offers infrared sauna products, which are designed for physical therapy to remove toxins and fatigue; they can reduce stress and weight loss.
About XC Spa
XC Spa is an ISO9001:2000 certified company offering a wide range of Spa products, especially hot tubs, outdoor spa and swimming spa tubs. The company's products go through a strict quality-control process, and they are resistant to weathering, warping and scoffing. Premium product quality and great customer service are the reason that their products are widely recognized by the customers worldwide.
For more information, please visit: http://www.xcspa.com/hot-tub/