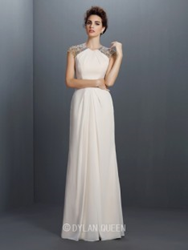 (PRWEB) January 11, 2015
Recently, Dylan Queen, a famous dress supplier offering many trendy women's dresses, has added a Portuguese channel to its website, and announced a site-wide dress promotion for 2015.
According to the CEO of Dylan Queen, the company has received many positive responses from Portuguese customers. Many Portuguese customers have to browse the website in English when they buy dresses from Dylan Queen. Some of them planned to buy more items. But the difficulty in communication drew them back. Now, the announcement of Portuguese channel will definitely help them them in buying dresses at DylanQueen.com.
It is worth mentioning that the promotion is valid until Jan. 30, 2015. The company has prepared many chic designs for its clients who want to buy high quality trendy dresses. The business' CEO has enough confidence that they will achieve a greater success in the near future.
About Dylan Queen
Dylan Queen is a reliable dress company. At its one-stop website, it offers a wide variety of chic dresses, including prom dresses, wedding party dresses, bridesmaid dresses, formal dresses, etc. Its aim is to provide worldwide customers with fashionable gowns at acceptable prices. It frequently updates its website with new assortments.
For more details of the company and its products, please visit http://www.facebook.com/iDylanQueen or http://pt.dylanqueen.com/vestidos-de-festa-79/