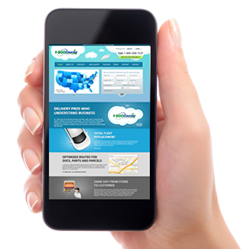 Atlanta, GA (PRWEB) January 08, 2015
1-800 Courier, a recognized leader in same-day delivery, distribution and transportation services, announces courier receipt e-mail capabilities. The announcement comes in an effort to provide superior customer care through its' value-added technological capabilities, promote customer loyalty and increase online sales growth. The San Diego courier strives to be the best choice for same-day courier solutions nationwide.
1-800 Courier provides actual receipts for same-day deliveries to all customers beyond the e-mail order confirmation, for the purpose of record keeping as a invoice and/or company reimbursements. The core of obtaining a courier receipt is it shows a proof of payment, which some personnel pay for their courier services via their own debit or company credit card and file for reimbursement. The receipt includes the recipient's payment type, the service amount, receipt date, and that the status of the invoice is paid.
Customers requesting a receipt e-mail only have to submit a request, which can be made via phone or online to customer support. Once customer support confirms the processing of the payment and the service has been completed, the e-mail receipt is sent the following day. For every courier order submitted, 1-800 courier's e-courier system stores the e-mail address and automatically sends an order confirmation once the service is completed. This confirmation usually is acceptable for most customers, however, it does not show the proof of payment as the actual receipt.
Clients requesting a receipt or an invoice, may also submit more than one e-mail they would like the receipt document to be sent to. For any questions regarding receipts, 1-800 Courier is available 24/7 to assist their customers with any of their e-mail receipt and invoicing needs.
1-800 Courier is a premier same-day courier offering transportation, messenger and distribution services. From small packages to palletized freight, 1-800 Courier delivers fast. As a leader in the courier industry, the goal of 1-800 Courier is to perform optimal courier logistic solutions and superior customer service every time. 1-800 Courier provides same-day delivery successfully for over 1,500 clients, including Fortune 500 companies throughout the US.