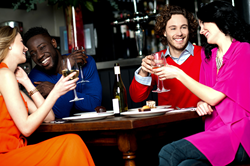 A fresh IT solution for restaurant table management
(PRWEB) January 09, 2015
LS Retail is moving forward with innovations in hospitality. At the NRF's "Big Show" in New York next week, LS Retail experts will demonstrate the fresh LS First solution for table management for full service restaurants. This will allow restaurateurs to set up and manage their table layouts in an intuitive graphic interface at the back of the house, mirroring it to a user-friendly POS for the waiter to take orders, monitor table status and split bills.
LS First is a comprehensive solution to manage restaurants in effective yet simple ways. It provides an all-in-one solution that reduces IT costs and increases efficiency. It is developed entirely on top of Microsoft Dynamics AX and connects restaurant operations and headquarter processes with ERP right out of the box.
Among the features highlighted by LS Retail's Product Director for Development, Stefan Thor Stefansson, are Central Restaurant Management, a feature-rich and flexible tool to set up and manage products, recipes and meal deals with modifiers, giving customers flexibility of choice. The system enables powerful data replication across the organization and enables restaurateurs to set up and manage menus and POS terminals centrally as well as for Kitchen Management and Display systems.
Stefan also points out that LS First Table Management gives restaurant staff the means to view the status of the table, track orders on the POS, and split the bill. With LS First, restaurants can set up and manage different sections, each with their unique table configuration, from their central office.
Retailers and restaurant operators wishing to learn more about LS First or other LS Retail software solutions can schedule appointments at the Javits Center with LS Retail experts at info(at)LSRetail(dot)com or by calling Eloise Freygang at (770)753-6003 or Runar Sigurbjartsson at (770)330-7655.