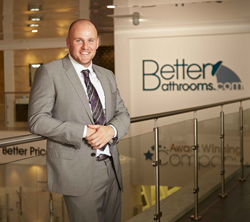 (PRWEB UK) 7 January 2015
Better Bathrooms is proud to announce they have raised a spectacular £10,000 at their Christmas Party for Challenge Cancer UK, the official charity partner for 2015.
On the night over 300 special Christmas Crackers were sold at a minimum price of £10, within 20 of them were special 'winner' tickets where the lucky recipients each won a prize. All the prizes were donated by generous companies including: Manchester United Football Club, Manchester Evening News, Brabners, Media Clarity, Yakult, Ayo Beauty, AJ Bell Stadium, Tech–Cam, Key Computers, Palletways, Barclays, Space 48, Delaware, Manchester Aviation Centre and Reid Display Solutions
At the end of the night there were no crackers left, and a total of £5,000 was raised, which, CEO Colin Stevens doubled to create a grand total of £10,000.
Colin Stevens, CEO and founder of http://www.betterbathrooms.com, said: "The amount of money we have raised in one night is absolutely incredible, this has only been possible thanks to the generosity of our staff and the businesses who donated the prizes. Challenge Cancer UK look at all aspects of the cancer process and we are proud to support them throughout 2015 and help them continue the vital work they do."
Mark Roberts, from Challenge Cancer UK added, "We're absolutely delighted to be working with Better Bathrooms in 2015, and would like to thank Colin, all his staff, and all their suppliers for their generosity and support on a very special evening. £10,000 is a fantastic contribution towards the work that we do, and I think it clearly shows that with the right people, and a cause close to all our hearts, we can, and will, conquer cancer together."
The Christmas Party set in a New York festive fairytale theme at the Concorde Suite was a fantastic way to honour all the hard working staff, Colin added: "We have had a brilliant 2014, we've doubled the number of showrooms across the UK and created over 100 new jobs and I wanted everyone to know how important they are to the company". In addition to the fundraising activities, there was the annual Award ceremony, a fun fair and celebrity guests including David Walliams, Natasha Hamilton and Shobna Gulati.
Operating a hugely successful online store at http://www.betterbathrooms.com, six showrooms in Manchester, Warrington, Wigan, Slough, Leicester, and York, two warehouses, a distribution hub in Didcot, a transport hub in Birmingham along with two trade counters in Leigh and Didcot; Better Bathrooms in manned by an ever growing team. By consistently reinvesting company profits to encourage growth, Colin has developed a thriving retail business. Specialising in offering customers the very best value within such a highly competitive industry, Better Bathrooms' business model has remained the same from day one, keeping strong with their company slogan of 'Better Prices, Better Service, Better Bathrooms'.