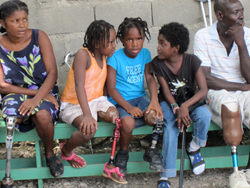 The evening program will include live music and dancing, carnival games with stacks of great prizes, a silent auction, Haitian arts & crafts sale, buffet dinner featuring Haitian specialties and a cash bar.
Ludlow, MA (PRWEB) January 07, 2015
Five years after a 7.0 earthquake struck Haiti, resulting in the worst natural disaster in the western hemisphere, Jacksonville residents will host an event to aid Haitians still coping with serious injuries received during the quake. On Thursday, January 15, volunteers for The CRUDEM Foundation will host A Taste of Haiti Jacksonville from 6 – 9:00 p.m., at the Haskell Building, 111 Riverside Avenue, in Jacksonville. Proceeds will benefit the prosthetics and other medical programs at Hôpital Sacré Coeur, the largest private hospital and a major employer in Northern Haiti.
Jacksonville Orthopedic Surgeon, Dr. John F. Lovejoy, Jr., Chair of the Event Committee, arrived at Hôpital Sacré Coeur days after the earthquake struck. Accompanied by Jacksonville medical professionals, Lovejoy and his team performed 180 surgeries in one week. A 30 year veteran of volunteer work in Haiti, Lovejoy's great passion for Haitians answered one of Haiti's most important needs when he designed and constructed one of the first prosthetics laboratories in the country. In April, 2010 this impressive $200,000 facility, funded and built by Jacksonville residents, opened its doors at Hôpital Sacré Coeur and became a miraculous blessing for the thousands of amputees in the northern region."Through the generosity of many in Jacksonville, we have a facility at the hospital to make limbs for those who have lost them, making them whole," said Lovejoy.
Next Lovejoy took on another critical challenge: education and job creation. According to Lovejoy, there are over fifty-thousand amputees in Haiti but no certified prosthetists in northern Haiti. "We have two Haitians in college, training to become certified prosthetists and orthotists." After finishing the three-year program, each graduate will work at the hospital and teach two new students. "Our goal is to give the Haitians the training, tools and opportunity to treat their own. We want to empower Haitians, not make them dependent upon us."
The evening program will include live music and dancing, carnival games with stacks of great prizes, a silent auction, Haitian arts & crafts sale, buffet dinner featuring Haitian specialties and a cash bar. Michael Richard, President of Advanced Prosthetics & Orthotics, Inc. will demonstrate the making of a prosthetic limb. Roberts Fine Jewelry, The Club Continental, Alhambra Theater & Dining, Underwood's Jewelers, artist Suzanne Schuenke, Target, The Olive Garden, Peterbrooke Chocolatier, Black Sheep Restaurant, Agnes Agatha Homemaker Store and many other local merchants generously donated prize items. Included are jewelry, electronics, vacation stays, household furnishings, paintings, wine, gift cards and much more. Tickets are $45 per person and available at the door.
The CRUDEM Foundation, a national, 501 (c) 3 charitable organization founded in 1993 provides Hôpital Sacré Coeur with financial and medical resources. As of January 2014, 100% of all donations to CRUDEM go to patient care programs thanks to a generous agreement with a corporate partner.
The CRUDEM Foundation's main offices are in Ludlow, MA. For additional information and to make reservations for Taste of Haiti Jacksonville please call 904-731-1762 or visit http://www.crudem.org to purchase via PayPal. Tickets can also be bought at the door.
About Hôpital Sacré Coeur and The CRUDEM Foundation
Hôpital Sacré Coeur (HSC) is the largest private hospital and one of the largest employers for the 250,000 people living in the north of Haiti. Located in the town of Milot, the 123 bed tertiary care hospital has provided uninterrupted service for almost 30 years. A 347 Haitian staff is supported by a network of U.S. medical volunteers. This premier Haitian healthcare facility and official Haitian Government Reference Hospital has been a beacon of hope for the people of Haiti as it creates a healthier Haiti, one dignified life at a time.
CRUDEM, an acronym for (Center for the Rural Development of Milot) was founded in 1968 by the Brothers of the Sacred Heart of the Montreal Province. In 1993, The CRUDEM Foundation assumed operating control of the hospital and became a 501(c) (3) corporation. In 1999, CRUDEM and Hôpital Sacré Coeur were included as "100 Projects of the Holy Father for the Year of Charity, 1999" by Pope John Paul II. In 2012, the Holy Name Medical Center Foundation of Teaneck, NJ became the sole member of The CRUDEM Foundation. Today Holy Name provides all manner of technical, operational and administrative assistance to Hôpital Sacré Coeur.
The hospital expanded from 10 beds in 1986 to 72 beds pre-earthquake. In the aftermath of the January 12, 2010 earthquake the hospital expanded to 420 beds. Currently, the number of in-patient beds at Hôpital Sacré Coeur is 123. In addition to full in-patient services, HSC offers outpatient clinics, full maternity services, pediatric care, dental services, a prosthetic clinic, pharmacy, clinical laboratory and a full service emergency department. The hospital also provides the full-range of HIV/AIDS services, including a prevention of mother-to-child transmission program. A nutrition center on the hospital campus cares for malnourished preschool children. Outreach is done through the Community Health Services department with public health nurses and community health workers serving five dispensaries in the region and reaching 150,000 people with vaccinations, pre-natal care, basic hygiene and nutrition training, and HIV/AIDS, tuberculosis, malaria, and lymphatic filariasis treatment.
Following the earthquake, more than 1,000 victims (patients and their families) were cared for at the hospital. Over 800 surgical procedures were performed on earthquake victims—many on the most critically injured. The hospital was able to achieve this because of its infrastructure, highly trained staff and long standing network of volunteers. Following the earthquake, more than 1,800 cholera patients were treated at the hospital beginning in November 2010.
Media:
Website: http://www.crudem.org
YouTube channel: http://www.youtube.com/crudemfoundation
For additional information please contact:
John F. Lovejoy, Jr., M.D.: Mobile: 904-608-0055
2010 Haiti Earthquake Coordinator, Tim Traynor: Mobile: 413-388-0495