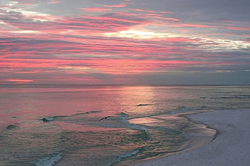 Destin, FL (PRWEB) January 08, 2015
The summer crowds have subsided, ushering in a tranquil wintertime air along Destin's coastline. Fewer beachgoers means more space to run free and enjoy views of the Gulf while it's at its most vibrant shade of all the seasons. Plus, winter events that last until spring are beginning to sprout in the first week of January.
Visiting families will enjoy Story Hour at Starbucks of HarborWalk Village. Every Thursday, parents can receive a discount on their coffee purchase, peruse the shops on the harbor and let the kids be regaled by tales of pirates and mermaids. Harborwalk Village also provides a beautiful backdrop for several other seasonal events. The Winter Guest Concert Series- a free concert every Sunday afternoon- amuses guests from the main stage. Every third Sunday the pelicans, charter boats and dolphins that call the Harbor their home, welcome wonders of the human world via ArtWalk. The walk includes more than 40 artisans from a variety of disciplines such as painters, jewelers, soap makers, photographers, sculptors and more.
Guests staying on the east end of Destin don't have to travel far to be entertained by the Gulf Coast's finest. The Village of Baytowne Wharf is set along another picturesque body of water that Destin is known for- the Choctawhatchee Bay. Each Friday, visitors can dance away the evening to free live music at the Marina Bar & Grill while watching sunsets.
A centrally located Destin vacation rental with views of the beach and the bay is the ideal setting for getting the most enjoyment out of a Destin vacation. Moreover, it provides the perfect home base to travel to the various venues in this year's much anticipated 30A Songwriters Festival scheduled for January 16th- 18th. The line-up for the 2015 30A Songwriters Festival includes performances by esteemed artists Graham Nash, Indigo Girls, Leon Russell, Jason Isbell, Shawn Mullins and much more.