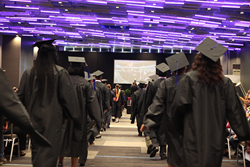 Columbus, OH (PRWEB) January 08, 2015
Franklin University, one of the leading educators of working adults, will hold its 148th Commencement Ceremony on Sunday, Jan. 11, during which more than 600 degree candidates will receive their diplomas. This commencement ceremony will take place at The Greater Columbus Convention Center, 400 N. High St. in downtown Columbus.
Jay Jordan, former president of OCLC will make the keynote address. Jordan served as OCLC's fourth president from May 1998, until his retirement in June 2013. Founded in 1967, OCLC is a nonprofit, global library membership organization that provides computing services and research to libraries around the world. Its public purpose is to further access to the world's information and reduce operating costs in libraries. OCLC and its member libraries cooperatively produce and maintain the WorldCat database of bibliographic information from major libraries around the world, which contain five millennia of recorded knowledge and the human record.
Under Jordan's leadership OCLC built a new cloud-based technological platform that enabled exponential growth of the WorldCat database, as well as the number of participating libraries both domestic and internationally. In 2000, Jordan initiated an International fellowship program that brings a number of early-career librarians from developing economies to Columbus annually. The program, named in Jordan's honor by the OCLC Board of Trustees in 2008, exposures librarians to the best practices of U.S. libraries and the strategic thinking of the cooperative's staff and member librarians.
Upon his retirement, the OCLC Board of Trustees voted to grant President and CEO Emeritus status to Jordan, not only for his accomplishments and leadership on behalf of the worldwide OCLC library cooperative, but also for his extensive service to the Columbus community. During his 15 years in Columbus, Jordan served in numerous leadership roles and as a member of several boards including: Franklin University, Tech Columbus, Nationwide Children's Hospital Research Institute, The Ohio State University Medical Center Strategic Planning Group, the Columbus Museum of Art, the American Chemical Society's Governing Board for Publishing, the Wright Center for Innovation and advanced Data Management, Dublin Arts Council and United Way.
Jordan currently resides in Castle Rock, Colo., with his wife of 25 years, Mary.
Also addressing the graduates will be Christina Miller, graduating student speaker receiving her Master of Public Administration degree.
Christina Miller was recently inducted as one of the first members of Franklin University's Honor Society for Public Administration and is receiving her Master of Public Administration degree today. She is employed by the Ohio Department of Developmental Disabilities as a Medicaid health systems administrator where she develops, implements and oversees the state's first participant-directed Medicaid waiver program that gives individuals with developmental disabilities significant choice and control over their lives.
Miller, a Columbus resident, earned her bachelor's degree in psychology from the University of Dayton. Prior to working for the state, she worked for a private, not-for-profit community corrections agency. A Certified Public Manager and a Six Sigma yellow belt, she also sits on the Council Board for the central Ohio chapter of the American Society of Public Administrators.
About Franklin University
Founded in 1902, Franklin University is one of the leading and most experienced educators of adult students. Annually, nearly 10,000 students attend Franklin, through its Main Campus in downtown Columbus, Ohio, three Central Ohio locations, regional locations in Beavercreek, Ohio and Indianapolis, as well as at five co-locations across Ohio, in addition to online. Franklin offers more than 40 undergraduate and graduate programs (including the new Social Sciences and Entrepreneurship Bachelor of Science programs) and graduates more than 1,500 students annually. The University's MBA program is offered internationally through agreements with institutions in Europe and the Middle East. Further information regarding Franklin University can be found at http://www.franklin.edu.
Franklin University is accredited by The Higher Learning Commission (HLC), the International Assembly for Collegiate Business Education (IACBE), and the Commission on Collegiate Nursing Education (CCNE).