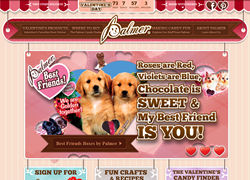 Reading, PA (PRWEB) January 09, 2015
R.M. Palmer Company, one of the top 80 confectioners in the world, announces the launch of a Valentine's Day website featuring new products, recipes and crafts to brighten the holiday for sweethearts everywhere.
Palmer is offering several new Valentine's Day novelties for giving and sharing, including decorated double crisp Big Puppy Pops, You're a-MAZEing double crisp mazes and I Heart U gift treats. A 4.5-ounce Mine Bar also debuts this season, featuring labeling that clearly reserves the bulk of the bar as "Mine" and sets just a bit aside as "Yours."
All of the new offerings are featured on Palmer's 2015 Valentine's Day website, along with recipes and crafts that spread a whole lot of love without costing a lot of time or money. Our Valentine Pretzel Treats, featuring the company's Fudge Filled Hearts, take just minutes to make and are a sweet addition to holiday gifts and treat bags. The site also features instructions for making Whoooo's My Valentine Packs, adorable paper owls filled with Palmer candies that make a wise and heartfelt Valentine's gift.
Following Palmer's tradition of making holidays fun and affordable for families on a budget, every craft and recipe on the site costs less than $10 to make.
ABOUT RM PALMER COMPANY
R.M. Palmer Company has been crafting fun, seasonal chocolate novelties since 1948. Today, the R.M. Palmer Company is the 75th largest confectioner in the world, with more than $165 million in annual sales, and is the 21st largest confectioner in North America (according to candyindustry.com). From their headquarters in West Reading, PA, Palmer's 850 dedicated employees design, produce, package and ship more than 500 unique items to nearly 100,000 retail locations in North America - making Palmer one of America's largest and most innovative confectioners. For more information about R.M. Palmer Company, visit http://www.rmpalmer.com.