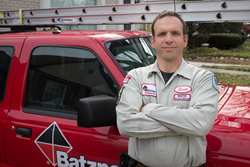 It was an honor to be nominated for the award, but to be chosen from a field of the best pest professionals in the business is humbling
New Berlin, Wis. (PRWEB) January 09, 2015
Batzner Pest Management is proud to announce that Scott Lupo, Master Service Professional, has been named the 2014 Pest Control Technology (PCT) Residential Pest Control Technician of the Year. Lupo will be honored at a March 15 ceremony at National Pest Management Association Legislative Day in Washington D.C.
Lupo, a Waukesha native and former Marine, has been with Batzner for 17 years as a Service Professional. Lupo was chosen to receive the award based on his outstanding customer service record and technical skills.
Throughout his tenure at Batzner, Lupo has acquired numerous certifications from Purdue University, the National Pest Management Association and the Entomological Society of America. Most recently, Lupo completed the Associate Certified Entomologist (ACE) certification program in 2013.
"Scott is very deserving of this award for his longtime dedication to providing legendary customer service," said Jerry Batzner, President of Batzner Pest Management. "Scott continually proves himself as a positive community force with his involvement in various Autism awareness efforts."
"When I heard I was receiving the award, I felt a mixture of surprise and excitement. I didn't really expect it." said Lupo. "It was an honor to be nominated for the award, but to be chosen from a field of the best pest professionals in the business is humbling."
Outside of his day job, Scott is a husband and father of two sons. Scott is heavily involved in Walk Now for Autism Speaks in support of his six-year-old son, who was diagnosed with autism at a young age. Additionally, Scott serves as a volunteer horse walker at Lifestriders, a local therapeutic horse-riding program.
Lupo is the first Batzner Service Professional to win the award since Rob Van Willigen was named Commercial Technician of the Year in 2009.
You can read Lupo's story in the January issue of PCT Magazine and watch a video with Scott here.