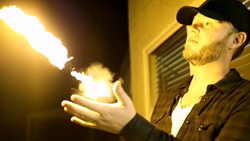 San Rafael, California (PRWEB) January 14, 2015
Leading edge magic web site Ellusionist.com has created the ultimate fiery tech device! The first of its kind, PYRO is a wrist-worn, James Bond style device that allows you to shoot fireballs from your open hand like a super hero.
Featuring four chambers for multiple shots, an easy to use remote device, ultra-quality case and adjustable wrist strap, PYRO is turning up the heat on any casual outing!
Best Buy Canada is negotiating with Ellusionist to carry the product in every store and the BBC has filmed a segment on the device, among other television shows. Online blogs including Maxim, CNET, and FHM sent PYRO viral within hours of release.
Shoppers surged to the online store Ellusionist.com during the holidays sending PYRO out of stock twice in one month. It's the first device of its kind that allows an ordinary person to have superpower abilities. The source of the fire in PYRO is a common item used by magicians to create a flash of fire without the usual safety hazards, although PYRO sells only to the over-18 set and comes with a lengthy teaching video to ensure safety comes first.
Created by Ellusionist GM Adam Wilber, the device is the beginning of a power not normally felt by the standard human being.
PYRO retails for $174 and is available exclusively at Ellusionist.com
PYRO uses 2 x AAA Batteries and 1 x 2032 Watch Battery (Not Supplied)