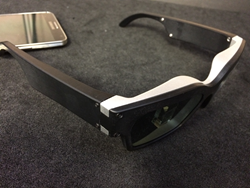 "Our new device is a testament to how advanced technologies can provide solutions to a wide range of problems from everyday issues, to safety in a warehouse, to critical medical data in an ER, to GPS display for first responders." -Rich Ryan, CEO, Six15
Las Vegas, NV (PRWEB) January 07, 2015
Six15 Technologies, the market leader in rugged, wearable optical displays for defense, is introducing its new head mounted display and augmented reality device designed specifically for heads-up data delivery and text messaging. The new Six15 glasses allow users to maintain situational awareness by eliminating the need to look down at their device, alleviating strain on the neck. Additionally, the heads-up data delivery improves safety for people on the job, walking or multi-tasking while retrieving data.
Built seamlessly into sunglasses for a natural look and feel, the device is the first see-through display in the industry to integrate into phones' existing operating systems, eliminating the need for an additional OS to be built into the glasses. It is compatible with iOS, Android and Windows mobile devices and is designed for the first responder and enterprise market to dramatically improve safety and efficiency. Uses for the glasses are limitless; any situation in which users need to retrieve data while maintaining awareness and focus on their environment is an ideal one for the device.
"Six15 has already established itself as a pioneer in smart glass technology for the military and we are excited to introduce our new glasses that expand our reach outside of defense," said Rich Ryan, CEO, Six15 Technologies. "Merging some of the capabilities we have delivered to defense customers with some of the key attributes of the consumer market, our new device is a testament to how advanced technologies can provide solutions to a wide range of problems from everyday issues, to safety in a warehouse, to critical medical data in an ER, to GPS display for first responders."
The glasses connect wirelessly via Bluetooth. With a built-in rechargeable battery, they can send and receive up to 1,500 text messages in one battery cycle. A built-in head tracker also enables augmented reality apps to work with the glasses. Patented ODIN see-through optics puts Six15's lenses at about 6mm in thickness, half that of Google Glass while delivering a wider field of view and true see-through performance.
"Our glasses are a more realistic and less obtrusive application to wearable tech and head-mounted displays, unlike other devices currently in the market that have struggled to go mainstream," Ryan said. "We've all seen a crowd of people looking down at their phones, unaware of their surroundings. This device allows people to communicate without having to mentally step out of their environment. We believe this leap in performance and wearability will be the difference that creates real value in the enterprise market. The possibilities for this technology are boundless."
The glasses will be available with optional thermal and visible cameras for other business applications. Six15 plans to introduce a series of expanded features built specifically for individual applications in the enterprise market, such as warehousing and healthcare, following the initial launch of the device.
The glasses will be unveiled to the public and media for the first time at the 2015 International Consumer Electronics Show (CES) from Jan. 6-9, 2015 in Las Vegas.
To learn more and pre-order the device, visit http://www.six-15.com/ces.