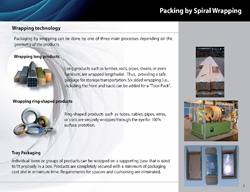 (PRWEB) January 09, 2015
H Boehl North America announced that the full line of Bohl packaging machines are now offered to meet the demands of U.S. and Canadian manufacturers. Bohl's entire line of wrapping machines including BSA, BSB, Junior, Meister, Senior, W1, W2, and Coil Master have been released for sale. With the release of these machines, Bohl will provide North American manufacturers the same innovative solutions and solid German engineering it has relied on to establish a 90 year track record of success in Europe, Asia, Africa, and the Far East.
With an expansive range of product size capabilities, Bohl spiral wrapping machines provide packaging solutions to industries that include: steel, titanium, aluminum, copper/brass/bronze, plastic, rubber, insulated panels, lumber, finished millwork, furniture, doors, windows, and foam. Bohl wrapping machines are adept at packaging these product types in all configurations including: pipe, sheet, coiled, rod, cabling, slitted metal coil, beam, truss, bulk, rough sawn, and finish milled. Typical packaging materials include stretch film, PE film, paper, burlap and VCI film for corrosion critical products. U.S. and Canadian manufacturers now have direct access to the full line of Bohl packaging machinery through H Boehl North America.
"We are providing a U.S. based service for all customer service requests and machine inquiries. H. Boehl North America is a one-stop shop for all of the packaging solutions and engineering services offered by Bohl. Bohl spiral wrapping machines provide the technology needed to reduce costs and eliminate bottlenecks in the packaging department," said William Buckley, President of H. Boehl North America.
Experience and versatility in product handling allows Bohl engineers to meet the needs of customers that range from small manually operated machines to large machines fully integrated into automated production lines. For the first time, the packaging expertise of Bohl is available to U.S. and Canadian manufactures.