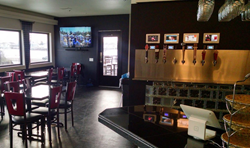 I'm not sure who's enjoying the Beer Wall more, me or my customers.
Boise, Idaho (PRWEB) January 08, 2015
In 1989, the movie "Back to the Future II" depicted what the future would look like in the year 2015. Fast forward to present day at the Boise TechMall and you may not see hoverboards or flying cars like you would have seen in "Back to the Future's" version of 2015, but you will be greeted by a horde of technological advancements that will make you feel like the future is truly here and now. The TechMall has been several years in the making but the end result has raised the bar to something one would hope to see replicated all over the United States.
The TechMall is a hub for businesses and business owners in pursuit of growth tools. This is one location that provides startups (and industry experts' alike) access to everything from Accounting to online Marketing techniques. Phil Sigler, a partner at Boise TechMall said, "We wanted to provide a venue where businesses could, not only learn about the tools available to them but utilize them, purchase them and create a long term relationship with the Tech Mall."
The mall is made up of three floors, each with its own purpose. The first provides a high-tech tradeshow experience for guests. You'll find everything from basic PC repair to the latest 3-D printers with which you can have a hands-on experience. The second floor pulls together the disciplines of Website design, Search Engine Optimization (SEO) and online marketing expertise. One of the more notable destinations there is the Boise HotSpot. This is Idaho's first completely automated self-serve beer and wine wall from the Chicago based company PourMyBeer. "It seemed appropriate to incorporate the latest technology in hospitality into our very own HotSpot" said Mike Fias, the Owner of the Boise HotSpot, "The system has been working out great since we opened. Our customers are able to taste different varieties of beer and wine at their leisure. Age-appropriate patrons are issued an RFID Beer Card by our staff. They tap the card next to the brand they want and pour however much they feel they would like to try. The customer pays for exactly what they pour, kind of like pumping your own gas, and for exactly the number of ounces they pour. I'm not sure who's enjoying the beer wall more, me or my customers!"
The third floor is host to a mix of business professions whose services one may require in the course of normal business dealings. It is primarily made up of best-in-class legal advice, accounting experts and marketing agencies. There's also a generous conference center outfitted with all the latest and greatest 'whizz-bang' presentation toys. The space is also utilized for networking events for local entrepreneurs to meet and share ideas. "Our company was excited about this project from the very first conference call. It's the first Mall we've put our systems in, though we are working with some upscale clothing boutiques as well. As an entrepreneur, I'd take up residency at the TechMall next week if we had one in Chicago" said Josh Goodman, CEO of PourMyBeer.
http://www.PourMyBeer.com is an Innovative Tap Solutions Company. The company was formed in 2009 and made the first commercial mobile self-serve beer tables in the US. It also sells and distributes fixed beer walls, mobile beer walls, fixed draft beer tables and mobile draft self-serve tables. All mobile equipment is made in the USA. Contact sales (at) pourmybeer (dot) com or call 267-323-1100