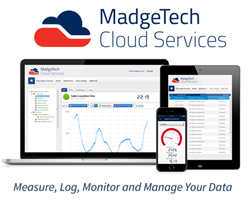 Monitor several facilities around the country from a central location or while on the road. Manage multiple warehouses, freezers, laboratories or smokehouses within a large building or property, all from the palm of your hand.
Warner, NH (PRWEB) January 07, 2015
The MadgeTech Cloud Services offer a scalable solution with limitless applications. With MadgeTech Cloud Services, overseeing operations at anytime from anywhere becomes the new standard. This system is dynamically designed to perfectly fit applications requiring anywhere from a single data logger, to networks of hundreds of loggers in multiple locations.
All MadgeTech Wireless Data Loggers are cloud ready and can be up and running in just minutes. Ideal for monitoring applications such as storage, cooking, cooling and more, no matter what industry, the MadgeTech Cloud platform provides facilities on-demand data supervision offering peace of mind and flexibility like never before. The customizable user interface options available with MadgeTech Cloud Services can accommodate facilities of all sizes and application needs.
The MadgeTech Cloud offers convenient data assurance in more ways than one, providing both continuous data monitoring and logging. As a monitoring system, the MadgeTech Cloud allows for instant access to all recorded and real time data in the palm of your hand.
As a logging solution, recorded data readings are buffered and saved to the device's internal memory. This provides uninterrupted continuous monitoring even in the event of a power loss or network failure. When services are restored, all recorded data is transmitted automatically and saved to the file database, providing worry free around the clock data logging.
MadgeTech is a leader in data logger manufacturing and servicing and provides world class support. The MadgeTech Cloud Services offers the best custom data logging solution available today, bringing your data to you, wherever you are, as it happens.
To learn more about the MadgeTech Cloud Services, please call (603) 456-2011, or visit http://www.madgetech.com/cloud to request a call from a MadgeTech Cloud sales representative.