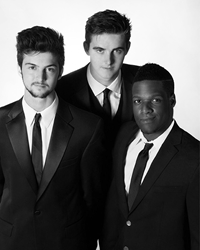 To make chivalry cool again.
Orlando, Florida (PRWEB) January 07, 2015
The KAJ Brothers will appear on Fox Tampa Bay, Channel 13, tonight at 10 following American Idol to share about their work with American Idol songwriter Regie Hamm. Hamm is well known for writing 'The Time of My Life', which became a smash hit for Idol winner David Cook and one of the longest running AC Billboard chart toppers of all time.
The KAJ Brothers are Kyle and Austin Craichy and Johnny Atys. They have a special mission: to leave their audience uplifted and feeling loved with the primary purpose of elevating women with true love songs.
The KAJ Brothers are known for their unique motto - "To make chivalry cool again." The band's first release, "Hello," is dedicated to women and the massive problem of sex trafficking around the world. Kyle Craicy, Austin Craichy, and Johnny Atys kicked off their 'End Sex Trafficking Campaign' last year by donating $10,000 to The International Justice Mission. They also committed one hundred percent of their first year's profits from iTunes downloads of their first single to various charities that provide assistance to women and girls that will help free them from the horrors of sex trafficking.
You can watch the KAJ Brothers on FoxTampaBay tonight at 10 or watch them afterward on the Internet at FoxTampaBay.com.
Be sure to check out the KAJ Brothers on their website and social media sites:
kajbrothers.com
twitter.com/kajbrothers
instagram.com/kajbrothers
youtube.com/channel/UCUccwcWjvy7pkhp9cydqZ1A