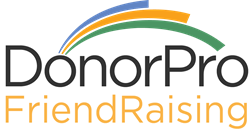 Pittsburgh, PA (PRWEB) January 21, 2015
DonorPro, the premier provider of fundraising software for nonprofits, recently launched the next generation of it's peer to peer fundraising platform, FriendRaising 2.0.
FriendRaising empowers nonprofit cause supporters to raise money and awareness among their personal networks of friends, family, and community using the platform's robust fundraising tools.
DonorPro's latest release comes with a fully responsive design website platform, customizable web donation pages, and an improved interface creating a delightful user experience for nonprofits, individual fundraisers, and their website visitors.
Evolution of Peer to Peer Fundraising
Peer to peer fundraising, also known as friends asking friends, was popular long before FriendRaising. However, without social media or online giving, reach and impact were limited.
FriendRaising solved all of those inefficiencies by bringing a host of digital fundraising tools such as e-mail, social media, online donation pages, and merchant services together into one integrated system. Today, nonprofits can build a FriendRaising "microsite" and their individual cause supporters can launch personal campaigns in a matter of hours.
Checkpoint, a Veterans resource center in Western Pennsylvania kicked off a FriendRaising campaign ahead of their May 2015 "The Crucible Hike: The Extreme Hike to Help Veterans." Hikers are forming teams and competing with one another to see who can raise the most money.
VNA Health Group, the largest nonprofit provider of home health, hospice, and community-based services in New Jersey, built a FriendRaising event site to take RSVPs, secure sponsorships, and promote their "From Front Street to Wall Street Benefit Dinner" last September.
The Benefits for Nonprofits
Over the last 5 years, DonorPro users have raised over six times more money leveraging FriendRaising pages for their events than they did the year before without any system in place. This incredible success is attributed to three simple facts:
1. People are 100% more likely to give/donate to a cause when asked by somebody they know.
2. Competition among individual fundraisers and fundraising teams fuels growth as supporters compete for prizes awarded to those who raise the most.
3. FriendRaising operational costs are generally less than 5% of the total money raised.
Get Started Today
Whether you have an upcoming event or campaign that you'd like to rally support for, or just need to kick-off a capital campaign or annual fund, FriendRaising can help. Organizations can learn more about DonorPro FriendRaising by visiting: http://www.donorpro.com/products/friend-raising.
About DonorPro
DonorPro built its reputation in the nonprofits sector with an affordable and easy to use CRM donor management system along with online fundraising tools for all types of nonprofits. Founded in 2003, DonorPro is a privately-held company headquartered in Pittsburgh, Pennsylvania. DonorPro increases donations, streamlines workflow, increases staff productivity, and enhances personal communications with prospects and donors. Learn more at http://www.donorpro.com.