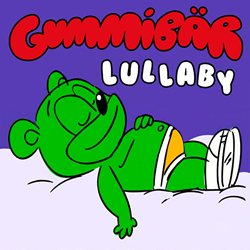 Since this style of song is new for Gummibär, we wanted to experiment with a new style of animation as well.
New York, NY (PRWEB) January 08, 2015
Animated music star Gummibär, best known for his wacky dance songs and videos that have gotten more than 1,425,000,000 views on his main YouTube channel alone, has announced the release of a new single called Lullaby. As the name suggests, Lullaby is a soothing lullaby that was created to help listeners of all ages, but especially his younger listeners, to fall asleep. The single is now available for purchase on iTunes.
Lullaby is accompanied by Gummibär's first 2D style animated video. Jurgen Korduletsch, president of Gummybear International, the company behind the Gummibär character and brand states, "Since this style of song is new for Gummibär, we wanted to experiment with a new style of animation as well. We wanted to try something less manic and less visually stimulating. Going 2D with the lullaby video is another step in the continuing exploration of new frontiers for Gummibar."
The video can be seen on YouTube at https://www.youtube.com/watch?v=LOk3oP1JN18
For more information about the character, visit his website at http://www.thegummybear.com
About Gummibär
The first Gummibär videos were posted on the internet in 2006 and since then the character has gone on to become one of the most successful animated characters on the internet ever with more than 4 billion combined video views on YouTube alone. The character's music has been released in over 40 different countries and in over 27 different languages. He has his own animated Christmas special as well as a growing line of character merchandise.
About Gummybear International
Gummybear International is engaged in the creation, development, and branding of animated entertainment properties, as well as musical content based on and produced for such properties. It markets and sells recorded musical and video products in various physical formats, such as compact discs and DVDs, and digital formats, such as downloads and ringtones, through a worldwide network of established distributors and licensees. The company's music publishing segment owns and acquires rights to musical compositions, markets these compositions, and receives royalties or fees for their use. It also is actively developing mobile and computer based games and exploiting merchandising rights for its brands in cooperation with a variety of licensing partners. GBI is working on a number of film and TV projects. The company is headquartered in New Jersey. For more information, visit the Gummybear International website at http://www.gummybearinternational.com/.