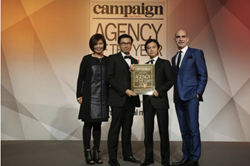 Tokyo, Japan (PRWEB) January 08, 2015
Isobar Japan has won the gold for Campaign Asia-Pacific's "Digital Agency of the Year" for the 3rd consecutive year.
The Agency of the Year awards celebrates the achievements of the Asia-Pacific region's advertising industry.
Isobar Japan's win recognizes and rewards the agency's strong leadership, creativity and innovation, new business performance, the development of talent within the country and contribution to the industry.
"We are delighted that Isobar Japan won the gold for Campaign Asia Pacific's "Digital Agency of the Year" for the third time since 2012.
Isobar Japan's winning streak continues thanks to the remarkable efforts of our dedicated teams and our clients' willingness to be bold and trust us.
This truly highlights the breadth of our expertise in Japan, and our clear standing as market leader in the area of digital and innovation, both for Isobar and our clients. We compete with strong agencies in Japan, so its great to come out on top in the Digital Agency of the Year category. To win is a great reward for our employees and clients and its proof that we have the right vision and strategy. We are proud, and we're celebrating, but we're not stopping here. We will continue doing the best work we can for our clients." said Isobar Japan CEO Takahiro Uchinaga.
The shortlists for the 2014 Agency Network of the Year Awards were released at the end of November.
About Isobar:
Founded in 2003, Isobar has since become the world's most global digital agency powered by over 3,500 professional across 37 markets. We create long-term, rewarding relationships between brands and consumers, and are committed to ideas without limits, borderless thinking and experiences that translate across markets.
Our worldwide reach means that we can bring fulfilling experiences to our clients and their customers - wherever they want to lead in the world.