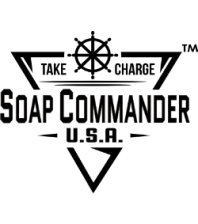 All orders made on Luxury Barber for the month of January will receive a free Soap Commander sample with purchase.
Hallandale Beach, FL (PRWEB) January 09, 2015
Soap Commander was created in 2014 by Darren and his wife of 20 years, Carrie. Together, they have formulated some of the most incredible hand crafted skin care products that specialize in enhancing a man's shaving routine in simple, effective ways. When Darren and Carrie discovered that their oldest daughter suffered from eczema, they sought out to create products that were natural, gentle and easy on all skin types. Although their intention was to only assist in easing the everyday challenges their daughter faced, their friends and peers' interest instantly peaked. They began selling their soaps like wildfire to anyone who heard about it.
In 2012, the power couple opened their first business, Simply 7 Skincare, in 2012. Simply 7 was focused on only natural soaps that were perfect for those with extremely sensitive skin. The business began to expand, especially when it came to their male customers. Shortly thereafter, Darren became heavily interested in wet shaving, a completely separate world on its own. He began to research and formulate men's aftershave and shaving soaps that men quickly began to include in their daily grooming routines. Alas, Soap Commander was born.
From vegan shaving soaps to soothing aftershave balms, Soap Commander's motto is to equip their customers to "Live Life Charged." Soap Commander's motto is that the entire outlook of a positive day beings with a tailored personal grooming routine right after waking up, which is why it is so important to use products that give desired results in an easy way.
Luxury Barber has chosen Soap Commander as January's Brand of the Month because of their dedication to creating innovative products that are perfect for all skin types, leaving no one out. Every soap, body wash and shave cream is specially formulated with hydrating and nourishing ingredients that are refreshing and revitalizing to take on the day. All orders made on Luxury Barber for the month of January will receive a free Soap Commander sample with purchase. Learn more at http://www.luxurybarber.com.
About Luxury Barber:
Luxury Barber is the ultimate online destination for the finest men's grooming and anti-aging products on the market. Luxury Barber believes that being a gentleman and maintaining a well-groomed appearance is not just important- it's necessary. Luxury Barber offers a wide selection of men's hygiene and grooming products for shaving, hair, face, body, and anti-aging. In addition to having their own premium private label of men's products, Luxury Barber work meticulously to handpick the brands featured on Luxury Barber to give its customers the ultimate shopping experience.