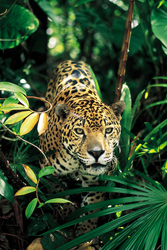 Each IE journey is carefully planned to let curious, adventurous travelers delve deep into nature, history and culture.
HELENA, Ala. (PRWEB) January 13, 2015
From Sri Lanka's largest national park to the bird-rich savannah of Brazil, International Expeditions' 2015 lineup features four engaging new nature tours — in-depth adventures that blend colorful cultures with remote wildlife meccas in Sri Lanka, India, Indonesia and Brazil.
"Each IE journey is carefully planned to let curious, adventurous travelers delve deep into nature, history and culture," said Bill Robison, Director of Program Development. "The new tours we are introducing allow our guests a chance to discover natural wonders and enjoy a really personal, authentic experience."
Sri Lanka
International Expeditions' new Sri Lanka adventure highlights the cultural heritage and diverse wildlife of this exotic island, which includes more than 430 species of birds and endemic species of sloth bear, leopard and elephant. Travelers survey two national parks – Wilpattu, Sri Lanka's largest national park, and Yala, which boasts the world's highest density of wild leopards along with endangered black-necked stork. Plus, departures are timed to take advantage of the country's long season to search for both sperm whales and blue whales; the largest animal on Earth. From $6,198.
Wildlife of India
IE's newest, wildlife-concentrated India tour offers increased opportunities to encounter the elusive tiger — plus leopards, sloth bear, four-horned antelope and other wildlife — while visiting four different national parks offering some of India's most concentrated tiger populations. When not joining naturalists looking for wildlife, guests enjoy nature walks, visits to local schools and cooking demonstrations during nights at family-run boutique lodges. From $6,598.
Bali to Komodo
International Expeditions' Bali to Komodo tour was specifically crafted to explore the region's most compelling natural wonders. Komodo Island is located in an area known as the Wallacea Region, where Asian and Australian species overlap ensuring a diverse list of sightings. Traveling aboard the nine-cabin WAOW on their seven-night Indonesia cruise, guests enjoy opportunities for ranger-led nature walks to observe the famed Komodo dragons, birding hikes through the islands' vine forests, and snorkeling in an area with 750 species of coral and 3,000 colorful fish species. Travelers also learn about the reintroduction of the critically endangered Bali starling — or Bali mynah — back into the wild. From $9,248.
Brazil's Pantanal
Wildlife freckles the open savannahs of Brazil's Pantanal, where the birdlife is capable of turning even the most casual observer into a birding enthusiast. Hyacinth macaws, yellow-faced parrots, black-hooded parakeets and other birds crowd the skies above the Pantanal, while giant anteaters, Brazilian tapirs, capybaras and even jaguars stake claim to the lush gallery forests and expansive savannahs. A special treat, IE guests cruise the three rivers — Three Brothers, Cuiabá, and Piquirí — that form Meeting-of-the-Waters State Park, one of the Pantanal's largest protected areas, on guided jaguar safaris. September 24, 2015. From $5,298.
For more information or a brochure on 2015 journeys, call International Expeditions at 1-800-234-9620, e-mail nature(at)ietravel(dot)com, or visit http://www.IEtravel.com.
###