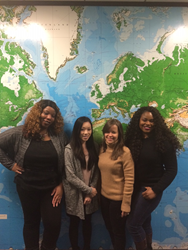 New York, NY (PRWEB) January 08, 2015
This summer, Ovation Travel Group launched Ovation Academy in New York City, a partnership between Ovation and Monroe College. This 10-week program offered travel consultant training in all areas of travel management including customer service, geography and the travel industry, and the Sabre Global Distribution System (GDS). Students received a total of 75 instructional hours by Monroe professors, in addition to 50 hours of online self-study training in the Sabre program. Seven out of ten students who successfully completed the program have joined the company as Ovation's first class of junior travel consultants.
"It has been such a rewarding experience welcoming these talented and passionate individuals to a full-time position at Ovation," said Robin Seligson, Vice President of Human Resources at Ovation Travel Group. "We are looking forward to expanding Ovation Academy to our other regional offices."
As Ovation's client base always demands experienced travel consultants, each of the graduates of the Academy are partnering with senior travel consultant mentors to further learn the skills required to service these discerning travelers. Some of these skills include utilizing the Global Distribution System (GDS), reviewing and checking reservations, and learning to work with air, hotel and car suppliers.
"The Ovation Academy was an amazing opportunity to be introduced into the corporate travel management business, which is something I have been interested in for quite some time. The program was very interactive and shed so much light on how important customer service is in the travel industry," said Lourdes Gonzalez, Junior Travel Consultant.
About Ovation Travel Group
Ovation Travel Group is a $900 million travel management company comprised of three operating companies: Ovation Corporate Travel, Lawyers Travel and Ovation Vacations. Ovation Travel Group has managed travel services for prominent finance, law, entertainment, retail, consulting and professional service firms since 1984. Our mission is to provide outstanding service, cost savings and comprehensive travel solutions to professional travel managers, administrators and business travelers. We are the 5th largest TMC by sales volume in the country according to Business Travel News 2014, receiving accolades from more than 700 discerning clients. Ovation operates in over 90 offices nationwide and globally in more than 90 countries. For more information, please visit http://www.ovationtravel.com.