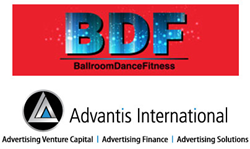 Ballroom Dance Fitness CEO William Forhan stated: "The infusion of media financing from Advantis International will help us to create large-scale consumer awareness and understanding of the superior value and user experience our BDF DVD Series delivers. "
Las Vegas, NV (PRWEB) January 09, 2015
Advantis International, headquartered in Las Vegas, NV, announced today that they have completed contract negotiations to supply Ballroom Dance Fitness (OTCBB: BLDZ) with up to $5 million dollars in national advertising campaign funding.
Advantis International President, Jay Greenlees stated: "We are pleased to work with a leading innovator in the fitness industry such as Ballroom Dance Fitness Inc. to expand national and international consumer awareness of their innovative line of fitness videos and DVD's that promote 'Fun Exercise' to the Ballroom Dance and Fitness enthusiasts."
Ballroom Dance Fitness CEO Bill Forhan expressed the company's excitement in finalizing the negotiations stating, "The infusion of media financing from Advantis International will help us to create large-scale consumer awareness and understanding of the superior value and user experience our BDF DVD Series delivers."
About Ballroom Dance Fitness (OTCBB: BLDZ):
Ballroom Dance Fitness, Inc. (OTCBB:BLDZ) Is a publicly traded company in the Health/Fitness and Ballroom Dance business. Ballroom Dance Fitness operates the Plaza Ballroom and Event Center, in North Palm Beach, FL. 'Let's Meet at the Plaza" and is known for skilled dance instructors, wonderful events, and the largest dance floor in south Florida. Ballroom Dance CEO Bill Forhan has served as Chairman of seven successful public companies since 1996. The Company creates Fitness DVDs that promote "Fun Exercise". The launching for 2015 of The BDF DVD Series offers fitness enthusiasts a "Revolutionary Teaching Method" combining Cardio classic dance steps with strength training. Classic Dance Patterns combined with Free Weight training for a complete Body Workout along with healthy eating habits. The workouts create Natural body sculpting of waist, hips, belly, legs along with upper body building gives body definition and increases lean tone muscle mass. Visit Retail web site: http://www.BDFDVD.com to order your BDF DVD for $39.95 or Visit Corp web site: http://www.BallroomDanceFitness.com
About Advantis International Inc.:
Headquartered in Las Vegas NV- Advantis International provides advertising expertise and alternative financing solutions for large scale advertising campaigns in exchange for Equity based investments, Revenue Share participation or flexible payments on Revolving Credit Lines. Visit Advantis International at http://www.AdvantisInternational.com