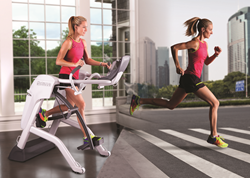 By partnering with the best company in wireless devices for active people, we have added new capabilities to SmartLink that deliver convenient and valuable workout tracking to drive performance.
BROOKLYN PARK, Minn. (PRWEB) January 07, 2015
Showcased this week at the 2015 International CES Expo in Las Vegas, the new SmartLink app from Octane Fitness, LLC, now gives runners advanced training options and more sophisticated workout tracking when used in conjunction with Octane's new Zero Runner® and select smartwatches.
"Our goal is to continually expand workout options to help runners and athletes get results," said Tim Porth, executive vice president of product development and marketing at Octane Fitness. "By partnering with the best company in wireless devices for active people, we have added new capabilities to SmartLink that deliver convenient and valuable workout tracking to drive performance."
SmartLink for Smartwatches and the Zero Runner
The SmartLink custom app for smartwatches now enables runners with a premium smartwatch to track outdoor runs as well as indoor sessions on the Zero Runner, including pace, distance, calories, and more. Runners now can bridge the gap between outdoor and indoor workouts without losing useful data – enabling them to log miles outside and then on the Zero Runner to minimize excessive repetitive impact. With this technology, runners benefit from specificity of cardiovascular endurance and muscular training while protecting the joints and the body from potential overuse and injuries.
Available in March, the new tracking capabilities with SmartLink are connected through ANT+ technology from the Zero Runner to the smartwatch. For more details, go to http://www.zerorunner.com.
Training with SmartLink on Tablets and Mobile Phones
Originally launched in 2014 for use with an iPad®, the SmartLink app delivers customized workouts, exercise tracking and multiple features that enhance fitness regimens and stimulate results. It connects to Octane's standing and recumbent home ellipticals, and the Zero Runner, from the iPad®, and will be compatible with Android tablets and iPhones® in March.
Exercisers simply identify their goal and can specify a period of 30, 60 or 90 days, and SmartLink creates a customized plan designed to achieve it. Programs begin with easier workouts, and add challenge as fitness improves; the app also recalibrates mid-plan if necessary to ensure progress. If exercisers miss a workout or want to add a session, adjustments are simple.
On the Zero Runner, SmartLink also incorporates innovative stride tracing that enables runners to monitor the health of their stride to ensure consistency and good form throughout workouts.
On select Octane machines, SmartLink enhances the exclusive CROSS CiRCUIT program with a comprehensive library of hundreds of strength training and flexibility exercises, along with multiple workout routines. Workout Boosters on select Octane models are illustrated via video with coaching tips.
Workout history is tracked and results are recorded in the cloud so that individuals can easily monitor progress, set new goals and share successes on social networks.
For convenience, SmartLink can run in the background, so exercisers can watch a movie, surf the Internet or send email during workouts. Bluetooth® 4.0 connects SmartLink to the Octane machine, as well as to other devices, such as heart rate monitors. Users also can customize preferences in the app, such as their favorite workouts and feedback display, and benefit from Be Fit tips and instructional videos.
With free app updates, exercisers stay motivated with greater workout variety over time, and their Octane Fitness machine is transformed into an interactive fitness partner.
Octane Fitness Background
Relentlessly fueled to reinvent zero-impact cardiovascular exercise, Octane Fitness has perfected the elliptical machine, introduced a new category with the xRide® recumbent elliptical, designed strength-infused cardio with the unique CROSS CiRCUIT®, created exercise in a new direction with the LateralX®, reinvented running with the Zero Runner® and is leading smarter training with SmartLink™. Defined by standout innovations, and driven to deliver more effective, efficient and rewarding workouts, Octane is engineering elliptical domination.
# # #
Find Octane at http://www.Facebook.com/OctaneFitness. Images are available; contact Julie King at 847.638.1582 or jking(at)octanefitness(dot)com. For more information, contact the company at 888-OCTANE4 (888-628-2634) or http://www.octanefitness.com. Octane Fitness, CROSS CiRCUIT, LateralX, xRide and Zero Runner are registered trademarks of Octane Fitness. All other trademarks are protected by their respective owners.