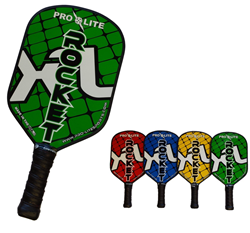 "The Pro-Lite Rocket XL offers Xtreme Power, Control, and soft touch for dinking!"
Port Washington, Wisconsin (PRWEB) January 21, 2015
Neil Friedenberg, Owner of Pro-Lite Sports and an avid pickleball player, wanted a pickleball paddle that has controllable power and offers overall balance with a longer reach. The Rocket XL has an all new exclusive Polymer core with a high impact composite face reducing noise and pitch. With brand new micro edge technology, the Rocket provides a larger surface area reducing the likelihood of mishits. The all new Rocket is great for every level of pickleball player and excellent for indoor and outdoor play. Designed for more reach, it has an extra-long (XL) body with an Ultra Cushion Contour grip and accented end cap for holding on while reaching for shots. The exclusive core of the Rocket XL provides greater durability, reduces vibration, and allows for performance that is more consistent in every shot. Its shear finish gives it a sleek professional look. You can't miss the Rocket XL on the courts with its sharp graphics and eye popping colors. Weighing in at approximately 8 ounces, the Rocket has amazing power and reaction, great control, and a soft touch for dinking. The paddle's weight provides an excellent balance between power and finesse. It comes with a Gamma Ultra Cushion Contour grip that has a comfortable feel with elevated ribbing, which is compressed to fit your hand. Overall dimensions are 16"W x 7-13/16"L. The Rocket XL is USAPA approved and of course, Made in the USA! The paddle comes in four eye-catching colors: Blue, Red, Lime Green, & Yellow. Take your game to the next level with the Rocket XL!
The Rocket XL retails at $85 and is available at all Pro-Lite Dealers and Retailers. Visit Pro-Lite Sports for detailed specifications and reviews on the Rocket XL and other top tier pickleball paddles that Pro-Lite offers.
Rodney "Rocket" Grubbs from Pickleball Rocks, recently reviewed the all new Pro-Lite Rocket XL pickleball paddle. He describes the Rocket XL in one word..."Wow! Indoors or outdoors, this paddle rocks!"
He explains that the Rocket XL is one of the longest paddles of the Pro-Lite arsenal. It offers extra reach with extreme power. The Polymer core is quiet and powerful! For Rocket's review, go to http://youtu.be/--QXqU45Ytk
One of our Pro-Lite customers sent us his review on the Rocket XL after he used it recently. "I wanted to let you know that I tried the Rocket XL today. It really is what I have been looking for!

"The paddle is very responsive – but controllable.
"It is heavy enough to absorb the shock of hard hits at the net and still be maneuverable.
"It's well balanced and doesn't seem to have any dead spots even near the edges.
"I like the thinner edge guard. I think there will be fewer miss hits at the edge of the paddle.
"I love the sound the paddle makes on impact. I should have said lack of sound because it is quiet compared to other paddles I have or have use."
Another Pro-Lite Sports Dealer offered her review on the Rocket XL:
"I usually play with the Pro-Lite Impact or my Pro-Lite Blaster 2 Alloy. The Rocket XL is a great combination of both those paddles. It has such noticeable power and control! I have not put the thing down! Everyone wants to try it out, but I need it for my game! When I return a serve, the ball seriously blasts off my paddle! This might just give me that extra confidence to enter more tournaments!"
About Pro-Lite Sports
In business for over 30 years, Pro-Lite Sports is a proud company that is highly involved with pickleball around the nation. Their wide variety of paddles helps fit all styles of players from beginner to advanced. Pro-Lite has some of the most balanced paddles in the industry and was the first company to produce a composite pickleball paddle. Neil Friedenberg says he enjoys having the opportunity to provide pickleball players with top quality paddles that exceed their expectations.
For more information go to http://www.pro-litesports.com or call 1-888-775-9615.