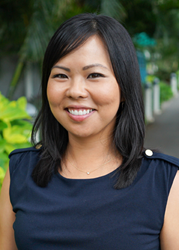 Honolulu, Hawaii (PRWEB) January 09, 2015
simplicityHR by ALTRES, Hawaii's most trusted and experienced provider of outsourced payroll and human resources services, has announced the hiring of Morgan Kaya as a Human Resources Consultant to its office in Honolulu.
In her new role, Kaya will be responsible for providing solutions to help businesses simplify their payroll process, human resources management, benefits administration and workers' comp, so they can focus on what they do best—growing their business.
Prior to joining simplicityHR, Kaya worked for Communications Pacific (CommPac) as an Account Supervisor. Servicing clients for over 8 years, she has a wealth of experience in the areas of account management, public relations and marketing communications. Kaya has worked with a broad range of clients to manage the development and implementation of their communications strategy and media relations, crisis communication, sponsorships, community partnerships, marketing campaigns and social media. Born and raised in Hawaii, Morgan earned her bachelor's degree in journalism, with a minor in speech communications, from the University of Nevada. She currently serves on the board of Ohia Productions and The GIFT Foundation.
simplicityHR by ALTRES is Hawaii's most experienced provider of outsourced payroll and human resources services. Serving as the HR department for 1,000 companies throughout the state, simplicityHR helps businesses succeed by streamlining payroll, health and workers' compensation coverage, employee benefits, compliance, and training. For more information, visit simplicityHR.com.
Founded in 1969, ALTRES is a second-generation, kamaʻaina company and Hawaii's largest human resources organization. With 165 employees in six office locations statewide, the ALTRES family of companies includes ALTRES Staffing, simplicityHR by ALTRES, and KilaKila Employer Services.