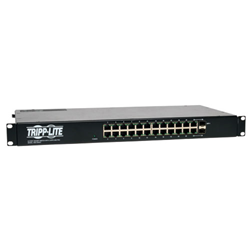 help every IT manager accomplish what is always asked of them: Do more with existing rack space
Chicago, IL (PRWEB) January 08, 2015
Tripp Lite, a world-leading manufacturer of power protection and connectivity solutions, has introduced a market first—network-grade PDUs with a built-in Gigabit Ethernet switch. These PDU Ethernet Switch Combos merge a PDU and unmanaged network switch into a single 1U device, saving IT managers valuable rack space. The NSU-G16 offers 8 outlets and 16 Gigabit Ethernet ports, while the NSU-G24C2 features 12 outlets and 24 Gigabit Ethernet ports. Both models have green Ethernet technology, which detects the length of a connected network cable and adjusts power consumption accordingly. They are ideal for server rooms, network closets, applications using wall-mount network cabinets and any environment where rack space is at a premium.
Key Features and Benefits:
-- Saves space by combining an 8- or 12- outlet PDU and 16- or 24-port unmanaged Gigabit Ethernet switch into a single 1U device
-- Green Ethernet technology turns off inactive ports and detects cable lengths to optimize power usage
-- 24-port model features two Mini-GBIC/SFP ports for optical network uplink to additional units
-- 8K address MAC address table
-- Support for jumbo frames up to 9216 bytes
"We're excited to introduce our new PDU Ethernet Switch Combos," said David Posner, Tripp Lite Product Manager. "They will help every IT manager accomplish what is always asked of them: Do more with existing rack space."
For more information on Tripp Lite's exclusive PDUs with unmanaged network switch, visit: PDU Ethernet Switch Combos.