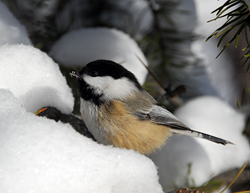 People can help non-migratory birds in winter by offering high-calorie feed such as suet and black sunflower seeds, heated bird baths, and bird houses in winter.
Chicago, IL (PRWEB) January 08, 2015
The first week of January has brought freezing temperatures and snow across the country, but birds in some of the coldest areas manage to survive as they do every year. With so little available food, limited to no running water, and temperatures well below freezing, survival is a challenge. Bird-X, humane bird control experts for over 50 years, explains further.
Birds face so many challenges in winter that many species have adapted to migrate into warmer climates. Migration is costly since it takes a great deal of energy to fly long distances, leaves birds more at risk to predators, and involves danger on the journey.
Many bird species including cardinals, pigeons, sparrows, some geese, and more do not migrate. These birds' survival depends on many factors, including their body size. The larger the bird, the more feathers they have; simply put, smaller birds can't always keep themselves warm enough to survive extremes.
Since birds are warm-blooded, the act of fluffing up downy feathers on cold days insulates in frigid temperatures; the puffier they get, the more warm air spaces are created, keeping them as warm as possible. Birds shiver when it's cold, which generates more heat, and many tuck their heads and feet into their bodies to stay warm. Some birds, such as chickadees, will crowd together to share body heat. Audubon Magazine points out that the toughest winter survivors are, "The little ones like chickadees. These small creatures can't put on too much bulk for aerodynamic reasons. Instead… they are experts in shivering."
Food is another great challenge for birds. Especially in areas with ice and snow, insects are dormant and many birds turn to eating berries and seeds when available. A few species of birds have adapted to store food in the warmer months to find later in winter. However despite these adaptations, the lack of food is an extremely common reason birds don't survive winter.
Water sources are another concern, especially when water stays frozen for long periods of time. Water birds including ducks and non-migratory geese coat their feathers in waterproof oil by preening their feathers with oil produced by a gland, allowing them to swim in freezing water while keeping their downy feathers warm and dry.
People can help non-migratory birds in winter by offering high-calorie feed such as suet and black sunflower seeds, heated bird baths, and bird houses in winter. These items are readily available online and in stores, providing people an excellent opportunity to see songbirds and other hard-to-find species.
For problem migratory birds, such as barn swallows, winter is an excellent time to clean any bird waste, old nests, and feathers from buildings, roof eaves, and other areas to lesson birds' habitual returns once spring comes. If year-round residents are unwanted in certain areas, winter bird control methods are the same as in spring and summer.
Bird-X, Inc. has spent over 50 years as the leading international brand of humane bird and pest control products and is dedicated to protecting the health of humans, wildlife, and the environment in which we all live. The Chicago-based company manufactures a complete line of unique pest control products with an unmatched focus on quality, efficacy, and customer service.