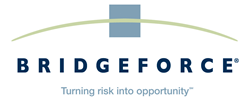 Chadds Ford, PA (PRWEB) January 08, 2015
Bridgeforce Inc., a specialized multi-national consulting firm serving the lending and payments industry, has expanded its US headquarters to new offices at 101 Ponds Edge Road, Chadds Ford, PA. The company's sustained growth over the last 15 years necessitated the move to larger quarters. In the last four years alone, propelled by increasing client demand for Bridgeforce services, the company has more than tripled its revenues. Employee growth has followed the same path.
"We've continually invested in broadening and deepening our capabilities, bringing in talented people across all functional areas as well as adding new infrastructure to better support our client's and expanded team's needs. We can now provide our specialized services on a much larger scale to more clients than we ever have before," said Matt Scarborough, CEO of Bridgeforce. "We needed new facilities to accommodate that growth."
As Bridgeforce continues to grow, Matt anticipates further expansion into areas of recent focus, including capital markets, fraud, auto finance lending, credit bureau management, non-banking lending, and regulatory compliance.
Bridgeforce is experiencing rapid geographic expansion outside the US as well. Its European business, managed out of the UK, tripled in the last three years, driving more revenue than the whole business four years ago. Also, the company continues to expand its Latin American client base.
To view examples of Bridgeforce's expansion in action, download this special report on sample engagements from last year: "2014, A Year in Review."
About Bridgeforce
Bridgeforce is a specialized multi-national consulting firm serving a variety of clients involved in almost all aspects of the consumer and small business lending and payments space. Over 75 percent of Bridgeforce consultants come directly from client-side leadership positions across multiple parts of the credit lifecycle. Combined with subject matter expertise in operations, technology, strategy and regulatory issues, Bridgeforce has the knowledge and experience to make the hard choices in developing and implementing best-fit solutions that are both achievable and lower the risks of execution to ensure sustainability. The Bridgeforce success can be attributed to a culture fostering innovation and evolving experienced-based best practices recognized within the industry. For more information, visit http://www.bridgeforce.com.