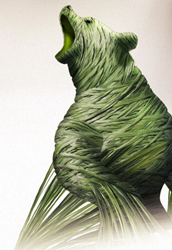 Our Legion Spike Zone system is a unique innovation that other manufacturers have struggled to execute.
Calhoun, GA (PRWEB) January 08, 2015
Shaw Sports Turf has announced a new product innovation, called Legion Spike Zone. The synthetic turf system features a patented manufacturing process which runs three distinct fiber types through one needle as the field is being tufted.
Legion Spike Zone, referred to as a hybrid product, features a combination of monofilament fibers, slit film fibers, and a Spike Zone thatch layer. Shaw's HP+ monofilament fiber is made with a high quality resin that has a thick, diamond cross-section (no spines) to prevent premature wear such as fraying and splitting. In fact, it has not had a fiber failure to date. It excels in performance characteristics (ball roll and ball rebound) and is known for aesthetics, mirroring that of natural grass. The slit film fiber is a high performance resin that results in superior durability. It helps balance out performance with a fiber that is going to stand the test of time.
While the tall fibers provide performance and durability, the Spike Zone layer creates a matrix of protection that minimizes infill movement and reduces migration to other areas of the field. This provides an extra layer of protection against inconsistent and unsafe playing surfaces. Together, the Legion Spike Zone system creates a strong, hard-wearing surface that can withstand the demands of high usage, while providing a surface that looks great and meets multi-sport performance requirements.
All three fibers are run through one needle, a process that no other synthetic turf company has been able to replicate. This patented manufacturing process is extremely important in order to avoid streaky fields which are created when manufacturers use three fiber types, but cannot run them all through one needle at the same time. By not being able to do this, other manufacturers are forced to create alternating rows of different fiber types. Each of these fibers has a different look, so when rows are alternated, the field has a streaky look.
"Our Legion Spike Zone system is a unique innovation that other manufacturers have struggled to execute," said Kyle Smith, Director of Manufacturing for Shaw Turf. "With Shaw's renowned manufacturing expertise, we were able to create a system that eliminated having to do one row of monofilament and one row of slit film. With the fiber constructions and cross-sections being so different, you can imagine how it appeared on the field—uneven and streaky. We fixed that."
The original Legion product line which features a combination of a monofilament and a slit film has been used successfully all over the United States including Vanderbilt University, Georgia Tech, Avila University and Seattle University. Architects, engineers and owners alike have chosen Legion because of its unique combination of durability, performance and aesthetics. Now, with the addition of the thatch layer, Legion is enhanced for ultimate performance that can't be matched.
About Shaw Sports Turf
A wholly-owned subsidiary of Berkshire Hathaway Inc., Shaw Industries is a full flooring provider to the residential and commercial markets. Shaw supplies carpet, hardwood, laminate, resilient, and tile/ stone flooring products, as well as synthetic turf. Shaw Sports Turf is one of the leading synthetic turf companies in North America and has represented quality and innovation for more than two decades with over 1,500 successful installations, including an impressive list of high-profile field installations. For more information please visit http://www.shawsportsturf.com, call 866-703-4004 or find us on Facebook.