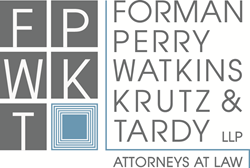 "We are excited that Bo and his family have entrusted us to manage this new phase of his career. He is not only talented but he is also one of the toughest and most competitive players in the country who has great things ahead." Peyton Smith, Forman Perry
Jackson, Mississippi (PRWEB) January 08, 2015
Forman Perry Watkins Krutz & Tardy LLP is proud to announce the signing of Bo Wallace, former Ole Miss Quarterback, as a client of the firm's Sports Representation practice group. Wallace leaves Ole Miss as one of the most decorated quarterbacks in school history, tallying three wins over Top-10 teams, leading the Rebels to three bowl games and an AP Poll ranking as high as #3 nationally. Wallace collected six career school records, including surpassing Eli Manning as the school's all-time leader in total offense.
Forman Perry's Peyton Smith, an NFLPA Certified Contract Advisor, will represent Wallace in contract negotiations with NFL franchises and with potential marketing and endorsement partners. Wallace's representation is part of the firm's larger Sports Representation practice group led by Smith specializing in working with collegiate and professional athletes and coaches along with other sports-industry stakeholders. Smith says "We are excited that Bo and his family have entrusted us to manage this new phase of his career. He is not only talented but he is also one of the toughest and most competitive players in the country who has great things ahead."
For more information, please contact Holland Familia, Marketing Manager, at 601-960-8600 or FamiliaHE(at)fpwk(dot)com. You may also visit our website at http://www.fpwkt.com.