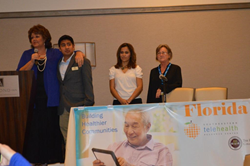 The future for telehealth in Florida is bright!" Rena Brewer, RN, MA, Director, Southeastern Telehealth Resource Center
(PRWEB) January 09, 2015
Florida Partnership for TeleHealth (FPT) along with Southeastern Telehealth Resource Center (SETRC) and The Florida State University College of Medicine held its first annual telehealth conference in Winter Park, Florida at the beautiful Alfond Inn. To say the least, this conference was wildly successful with over 150 in attendance. The opening session featuring the Florida Chamber of Commerce along with Representatives Mia Jones and Cary Pigman, MD set a positive and encouraging tone regarding the future of telehealth in the state. The two day conference brought together insurers, providers, presenting sites, medical professionals, and vendors which created the perfect environment to grow telehealth solutions. The agenda was packed with speakers and presentations from those currently involved in successful telehealth programs and supporters of telehealth initiatives in Florida. The audience learned of the abundance and variety of telehealth services that are currently being implemented across the state. Attendees also heard from the American Telemedicine Association (ATA) who connected virtually to give updates on Florida's progress from a legislative perspective to support telehealth.
With multiple opportunities to network, SETRC and FPT hoped key Florida telehealth and medical stakeholders could gather together to discuss the importance of telehealth and develop strategies to collectively advance services throughout the state. As the Florida legislature continues to consider passing legislation making it easier to practice telemedicine in Florida, FPT continues to work to build a not-for-profit telehealth network that can serve as a pathway to support the growing practice of telehealth in the state. Conference presentation slides can be found at http://www.fltelehealth.org/florida/.
FPT and SETRC would like to thank all involved in making the first "Florida focused" annual conference such a success. Special thanks to the Florida Telehealth Workgroup members for your participation and support. FPT looks forward to next year's conference where the story of Florida's successes in telehealth can be celebrated and solutions to challenges can be discovered.
"We could not be happier with how this first summit turned out; those who attended and presented were Floridians who are passionate about telehealth and they have the vision, the knowledge, the wherewithal, and the experience to promote, provide, and advance telehealth throughout the state. The future for telehealth in Florida is bright!" Rena Brewer, RN, MA, Director, Southeastern Telehealth Resource Center
A special thanks to our exhibitors for generously supporting this event: ATC Broadband, Avizia, IVCI, Care Innovations, Nuview Health, LifeImage, Florida TaxWatch, Iris Telehealth, Maxlife Advanced Telemedicine, Hometown Health, Insight Telepychiatry, AcuteCare Telemedicine and Florida Health.
If you are interested in becoming a SETRC workgroup member, please contact Rena Brewer, rena.brewer(at)gatelehealth(dot)org.
If learn more about the Florida Partnership for Telehealth, please contact Sherrie Williams, sherrie.williams(at)gatelehealth(dot)org.
About FPT:
The Florida Telemedicine Program was built based on advances in the continually evolving telecommunications and computer industries, and on successes and lessons learned from other Telemedicine programs. The hallmark of Florida Telemedicine is the Open Access Network, which is a web of statewide access points based on strategic partnerships with successful existing Telemedicine programs, and the creation of new Telemedicine locations, to maximize opportunities for timely specialty services.
WE ARE A GLOBAL PARTNERSHIP.
Global Partnership for Telehealth's mission is to deliver worldwide access to healthcare. Our unparalleled success in the United States in applies telehealth programs and services has assisted agencies in providing cost effective, efficient, and high quality healthcare to hundreds of thousands. GPT is reaching beyond our borders to bring healthcare to the world.
About SETRC:
Southeastern Telehealth Resource Center (SETRC) was made possible by grant number G22RH20212 from the Office for the Advancement of TeleHealth, Health Resources and Services Administration, DHHS and was created to advance the effective use of telemedicine services throughout the Southeast.
SETRC draws expertise from the highly successful state-wide Georgia telemedicine network, the Georgia Partnership for TeleHealth (GPT).