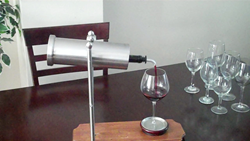 An innovative, entertaining and useful device, great for wine parties and the like. - Alan Sobieski
PORTLAND, Ore. (PRWEB) January 13, 2015
Wine Verser, (http://j.mp/Wine-Verser) a Kickstarter project by Vechatronics, was launched in December to provide the robotic wine pourer. Anyone who has ever poured too little or too much wine in the glass or has ever spilled any wine while pouring will want to raise a glass to this invention. Here is an entertaining device that not only pours the perfect glass without spilling a drop, but does it in style. The Kickstarter project was developed to manufacture more unite and ends February 21st. The Wine Verser can be purchased on that site.
The wine bottle is easily installed in the holder and is secured by a simple mechanism. The pouring operation begins when the glass is placed on the coaster. The Wine Verser detects the glass and starts the pouring process by rotating the bottle towards the glass. The pre-programmed profiles for pouring different amounts (full pour, half pour, or a taste) of wine are stored in the small computer onboard and can be selected with the switch. To prevent any spilling from the nozzle, the Wine Verser is programmed to pause momentarily after pouring, when the nozzle is above the glass, to drop any remaining wine in the glass.
Sommelier Alan Sobieski praised the product calling it, "An innovative, entertaining and useful device, great for wine parties and the like."
The Wine Verser is great for cocktail parties, wine tastings, or dinners. The Wine Verser dispenses a full (5 oz/150 ml) pour for dinner meals, a half pour (2.5 oz / 75 ml) for toasts, and a sample shot (1.5 oz / 42 ml) for wine tastings or other cocktails. It accommodates a majority of wine glasses (Burgundy, Bordeaux, Alsace, and Stem-less) and adjusts to accommodate different 750ml wine bottles. The Wine Verser automatically pours the proper amount without spilling a drop.
The Wine Verser keeps track of the number of pours and if it pours five full pours (approximately 750 ml), the Wine Verser indicates that the bottle is empty. The Wine Verser is powered by four AA alkaline batteries and pours over 200 pours on a set of batteries. It has a low battery detection to indicate when the batteries need to be replaced.
The Wine Verser will retail for $149, but can be pre-ordered by backing the Kickstarter campaign for $89 (first 500 backers). The first 500 backers will receive their Wine Verser in July.
For more information, visit: http://j.mp/Wine-Verser