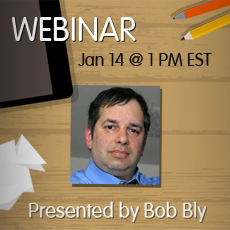 I am so excited about this webinar. I wish it could be today! I can hardly wait for it. Thank you for this great opportunity.
SANTA CLARA, CA (PRWEB) January 08, 2015
On January 14, 2015 at 1:00 PM EST, Pinpointe, a leading cloud-based email marketing company, will be hosting a content marketing webinar featuring special guest speaker Bob Bly- author of 80 published books including Careers for Writers, Secrets of a Freelance Writer, and The Copywriter's Handbook to name a few.
In this webinar Bob reveals the essential elements that transform copy from "hum-drum" to "home run." He'll also share examples, shortcuts, tips, and personal copywriting tactics that have dubbed him "America's top copywriter" by McGraw-Hill.
Some Webinar Highlights Include:

Characteristics of "A-level" copy and why marketers should use it
Incredibly effective content marketing tactics and how to use them
Easy shortcuts for using content in marketing
Six ways content can help marketers improve marketing results
And more...
For those interested in turbo-charging their content marketing strategy, this is one webinar that shouldn't be missed. Register for webinar.
About Pinpointe
Pinpointe is a top-rated email marketing provider by TopTenREVIEWS. Intuitive and flexible, Pinpointe is ideal for customers who need more than email marketing but aren't ready for the complexity of marketing automation. To experience Pinpointe for free call (800) 920-7227 or visit us on the web for a full feature one-month trial.
About Bob Bly
Robert W. Bly is a professional copywriter, speaker, and marketing consultant with over three decades of experience in B2B, high-tech, and direct response marketing. McGraw-Hill calls Bob Bly "America's top copywriter," and he was named 2007 Copywriter of the Year by American Writers and Artists, Inc. Bob writes a column for Target Marketing magazine. The Direct Response Letter, Bob Bly's free e-newsletter, has over 60,000 subscribers.