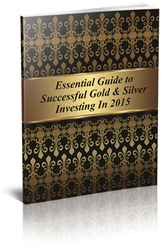 Effective January 1, the IRS will allow an IRA owner to make only one IRA rollover in any 12-month period, no matter the number of IRAs held by an owner.
Los Angeles, CA (PRWEB) January 08, 2015
In 2014, a U.S. Tax Court decision rewrote the rules on rollovers between individual retirement accounts (IRAs). Beginning in 2015, a significant change to the IRA rollover rule has been implemented that affects all 401(k) owners and how they may invest.
Effective January 1, the IRS will allow an IRA owner to make only one IRA rollover in any 12-month period, no matter the number of IRAs held by an owner.
Says John Rozdzielski, Managing Director at RC Bullion: "Under the old rules you could complete a rollover for each account you held within the period of a year. This meant that if you had worked more than one job and had accumulated multiple 401(k) accounts, and for some reason you decided they were underperforming and wanted to make adjustments, you had the choice of rolling each one of them over into a better performing sector. Now with the rule change, no matter how many accounts you have you can only roll one over per year."
Staffed by their trained IRA Specialists, RC Bullion has expanded its customer call center to include information on these new IRS rules. Says Rozdzielski: "To address any questions or confusion that may arise from these changes, RC Bullion has trained IRA Specialists at our call center who are able to offer investors accurate and complete information."
These new changes could have serious consequences for investors. "A number of respected analysts are predicting 2015 to be a very volatile market for stocks. Many are warning of a meltdown. If an investor is looking to move their money from their 401(k) into the protection of a Self-directed gold or silver IRA, they'll only have one opportunity to do so," says Rozdzielski. "Anticipating a downturn, we're recommending a move into gold or silver within an IRA. Many experts are predicting a strong year for gold and silver prices – this could be a great opportunity for investing."
What will this change mean to investors?

When consolidating funds investors should plan accordingly: choose investments that can be held for a longer period of time.
The new rule will not affect an investor's ability to transfer funds from one IRA trustee directly to another, as this transfer is not considered a rollover.
A check from one IRA custodian made payable to another IRA custodian will qualify as a trustee-to-trustee transfer, not a rollover, even if the first custodian gives the check to the IRA owner.
There will be no changes on the number of conversions from Traditional to Roth IRAs.
"Despite the gloomy forecasts for the stock market, the prospects for gold and silver look very good," said Rozdzielski. "We hope investors will see this an opportunity to take action."
To make multiple rollovers into self-directed IRAs before the year is over, contact RC Bullion's at (213) 465-4835. Please visit them at http://www.rcbullion.com.
Things to Know Before Making Important Investment Decisions
RC Bullion has created a new informational investment guide to help both experienced and inexperienced investors make informed decisions about gold or silver-based IRAs. The guide provides an outlook for the economy in 2015, an overview on the state of the world and how it will effect investments, and new rules and changes for the year that all investors should know about.
It was designed to cover a variety of common questions and pitfalls and to help investors make informed decisions as to whether investing in precious metals is right for them. "We created this course," Rozdzielski said, "to include information full of tips and expert advice to help investors make decisions that could save them thousands of dollars."
This informational course may be downloaded at: 2015 Gold and Silver Investment Guide
About RC Bullion:
Since 1998 the founders of RC Bullion have been trading precious metals and have become a trusted national leader in adding precious metals into individual retirement accounts. They are specialists in conversion, transfers, and rollovers of existing IRAs or former 401(k)s into precious metals. They also can provide investors with a wide range of physical products delivered safely and securely to their doors.