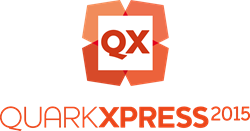 Denver, CO (PRWEB) January 08, 2015
In March of 2015 Quark Software Inc. is expected to make available QuarkXPress® 2015, the next major version of Quark's design and layout tool for print and digital publishing professionals. In addition to features already announced, including new 64-bit architecture and the top 10 most user-requested features, QuarkXPress 2015 will support PDF/X-4 output, the latest standard that allows better, faster printing. QuarkXPress 2015 will also continue to be sold as a perpetual license.
New in QuarkXPress 2015: Support for PDF/X-4 Output
QuarkXPress 2015 will allow users to create PDF/X-4 files. The exported PDF/X-4 files are certified with the same technology used inside Adobe Acrobat. With this latest standard, designers can preserve transparency to enable faster output, smaller files and higher quality print output.
Along with PDF/X-4 support, QuarkXPress 2015 will include the top 10 most-requested enhancements and more, including:

Stunning 64-bit Performance
4x Larger Page Sizes
Dedicated Orthogonal Line Tool
Fixed Layout Interactive eBooks
Custom Paper Sizes
Relink Any Picture in the Usage Dialogue
Collect for Output for Complete Project
User-definable Shortcut Keys on Mac
New Table Styles
Format Painter
Footnotes and Endnotes
Footnotes from Word
Search in Palettes
Smart Guides
Content Variables
Yosemite OS X Support
Tool Palette, Measurement Palette and Palette Group Docking on Windows
Buy QuarkXPress 10, Get QuarkXPress 2015 Free
Until February 25, 2015, everyone who purchases or upgrades to QuarkXPress 10 will receive a completely free upgrade to QuarkXPress 2015 when it is available. With the extension of the Buy QuarkXPress 10, Get QuarkXPress 2015 offer, users on any version of QuarkXPress (versions 3-9) can upgrade to QuarkXPress 10 to receive QuarkXPress 2015 for free. Until today, only users on QuarkXPress 8 and 9 have been able to upgrade to version 10. In order to access the special offer, version 3-7 users must contact Quark Telesales to upgrade to QuarkXPress 10. Find contact information here.
Learn more about what's new in QuarkXPress 2015, read about the offer details, make purchases and complete the offer redemption form here: http://www.quark.com/2015.
Special Pre-Order Offer for QuarkXPress 10 Customers
For current QuarkXPress 10 users, Quark is offering a low introductory price on pre-orders of QuarkXPress 2015 upgrades. The special price for the pre-order upgrade is: €299/£199/$249/¥25.000, which is significantly lower than the current upgrade price. The pre-order offer has been extended to February 25, 2015. Learn more here: http://www.quark.com/2015.
About Quark Software Inc.
Quark's software enables organizations of all sizes to meet customer demand for engaging, relevant communications when, where, and how they want them. Our solutions combine the power of XML with flexible layout and design to automate the delivery of customer communications to print, Web, and interactive experiences on the latest digital devices. Financial services firms, manufacturers, and governments around the world rely on Quark solutions to elevate customer communications to new levels, reduce time to market, and lower costs.
# # #
Quark, QuarkXPress, and the Quark logo are trademarks or registered trademarks of Quark Software Inc. and its affiliates in the U.S. and/or other countries.