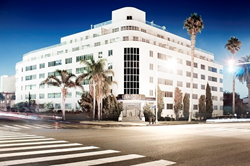 When it's cold and snowing across the country, Hotel Shangri-la getaways provide warm and relaxing escapes in sunny Southern California.
Santa Monica, CA (PRWEB) January 08, 2015
With winter in full force across the country, January is the perfect time to visit Southern California and beat the winter blues. The Hotel Shangri-la at The Ocean in Santa Monica offers visitors a chance to put some summer into their winter with an exclusive and relaxing stay in one of the hotel's luxury ocean view rooms following the hectic holiday season.
Choose from a selection of added value escapes:

The 'Room with a View and Massage Renew' offer includes a deluxe ocean view room for one or more days (no maximum) plus a complimentary 45-minute Swedish/Deep Tissue massage each day for one person at the hotel's poolside Sybaris Rejuvenation Lounge. Located in the lush Garden Courtyard, the unique outdoor wellness center provides guests a restful and relaxing environment in which to rejuvenate the body, mind and soul.
The 'We'll Pick You Up' getaway is designed for discerning business and leisure travelers.
Enjoy Lush Life with a warm escape to shangri-la and we'll pick up your spirits while you relax and enjoy a complimentary one-way private car transfer to the hotel from Los Angeles International Airport. The ultimate in convenience, the "We'll Pick You Up" package is subject to availability and a maximum of two guests per deluxe room and three guests in a suite can be accommodated.

'Stretch Your Weekends' at the ocean because weekends always seem so short. With this offer, guests get more quality time for themselves, leisurely dining or refreshments in our poolside cabanas to make the weekend last even longer. Check in at 3:00 p.m. on Saturday for a luxurious extended stay until Sunday evening at 6:00 p.m. Valet parking is included for the entire stay so you can spend more time enjoying your favorite leisure activities.
"When it's cold and snowing across the country, Southern California's mild Mediterranean climate is truly winter bliss," said Henri Birmele, Managing Director for Hotel Shangri-la. "Guests make their plans to relax in the warmth of the sun and take advantage of a wide array of enjoyable outdoor activities."
Hotel Shangri-la is conveniently situated within walking distance of many exciting activities, including a stroll along Santa Monica Beach, visit to the Santa Monica Pier, a ride on the new 9-story Ferris wheel at Pacific Park, or meander to 3rd Street Promenade for an exclusive shopping experience and evening entertainment.
There's no need to leave the hotel to capture a quintessential California sunset. From Penthouse Suite 700, Santa Monica's only indoor/outdoor rooftop bar and lounge, the 180 degree views of the magnificent Pacific Ocean and Santa Monica Pier provides an unforgettable experience. Enjoy the natural beauty of the ocean, while indulging in specialty cocktails and a selection of small plates that tempt the palate.
Fine dining is as close as The Dining Room, which features ocean view tables and gourmet delicacies specially prepared by Chef Kareem Shaw. Each selection showcases the best in locally sourced ingredients for an authentic taste of California cuisine.
For those seeking the ultimate and luxurious Valentine's Day celebration, the hotel's exclusive Golden Bubbles weekend is back by popular demand and is the perfect gift for that special someone.
More information and reservations are available for all packages at (800) 345-7829.
About Hotel Shangri-la
The urbane Hotel Shangri-la at the Ocean in Santa Monica is anything but ordinary and a member of Small Luxury Hotels of the World. Overlooking the Pacific since 1939, the hotel is a striking beacon of Art Deco elegance, a chronicle of the golden era of Hollywood and a quintessential nexus of culture. Hidden away on a high Santa Monica bluff overlooking the ocean and historic Santa Monica Pier, this timeless luxury boutique hotel promises guests their own personal Shangrila. Guests enjoy brilliant views of the Pacific Ocean, a celebrated history and a cultural connection during their stay. In the U.S., for toll-free room reservations only, please call (800) 345-STAY (7829) or for more information, visit http://www.Shangrila-Hotel.com.