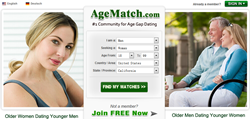 Where amazing dating happens
Los Angeles, California (PRWEB) January 10, 2015
January 7th, 2015: seekingcougar.com, is a dating site especially meant for those seeking to date younger boys or for older men who are seeking to find younger women. It is a part of the popular dating site Agematch.com . The makers of this site are strong believers of the fact that age difference is no longer significant in relationships. This is one of the first dating sites which offers to help people find the right match for them without their age being an issue. Due to the strong focus specifically on cougar dating, the search results are also narrowed down to the same criteria, thus having better chances of finding the right matches quicker.
As suggested by the site, these older pairings are now rising in popularity and attract various individuals looking to try out newer things without the stigma to it.
The dating website Agematch.com, also works in freeing the dating pool from the annoyance and embarrassment that one often faces in other general dating sites which mainly focuses on similar age dating. Here at this site one be sure that no one will judge them for asking out a younger woman being an older man or in case of a younger man asking out an older lady cougar.
This site is also very user friendly and easy to understand. One can set up an interesting profile of themselves at the site for absolutely free of charge. And just doing that would open the doors to hundreds of single folk who are also looking for similar relationships and could be your potential match. With this site the community of older men seeking to be with younger women and younger men looking for lady cougars can come in contact with each other not just for dating only but also to make new friends. Entering this site will release you from the irritating process of filtering through thousands of single people looking for someone of their age to date on yourself. This site has it all prepared for you for a simpler dating experience.