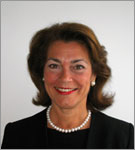 Our search process is embedded in a very comprehensive consulting experience that distinguishes our firm from any other."
Chicago, IL (PRWEB) January 08, 2015
Private Asset Management magazine (PAM) recently announced Mack International as a short-list nominee for the prestigious 2013 PAM Award: "Best Family Office Consulting Firm." The awards will be presented on February 2, 2015 in New York.
"We are honored to once again be nominated for the PAM Award in the "Best Family Office Consulting Firm" category, and to be recognized among our esteemed industry colleagues," said Linda Mack, president and founder of Mack International, a premier global strategic family office/human capital management consulting and retained executive search firm.
Ms. Mack is recognized as an innovative thought-leader in the family office/wealth-management industry and is a sought-after speaker at influential family office forums, conferences and private events all over the world. A highly regarded expert in the field, Ms. Mack has been widely quoted in numerous books, white papers and articles as well as other publications including PAM magazine.
According to Mack, "Human capital is universally cited by families as the most critical challenge to achieving success and sustainability — and human capital consulting is the foundation of everything we do with our clients. Our approach is unique. Our search process is embedded in a very comprehensive consulting experience that distinguishes our firm from any other."
"We provide a wide range of human capital, executive search and independent consulting services, including strategic planning and 360 assessments, succession planning, governance, organization design, performance management, executive compensation and retention strategies," Mack said.
"Our philosophy and approach to all of our consulting is client centered, customized and relationship-driven. We work in partnership with our families to find solutions that will enable them to sustain their families and family enterprises for future generations," Mack added.
The Private Asset Management (PAM) Awards, organized by PAM magazine, recognize and reward those who have successfully serviced high-net-worth individuals in an increasingly complex economic environment and have proved true ability in all seasons.
About Mack International
Mack International, LLC, headquartered in Chicago, is a global consulting and retained executive search firm serving national and international clients in the family office/wealth management industry. Mack International is known for its unmatched industry expertise, in-depth market knowledge and unparalleled track record of success. For more information, visit http://www.mackinternational.com or call 800.976.0015.
About the PAM Awards
The PAM Awards are designed for investment advisors and wealth professionals, operating within the private asset management industry, who have proven to be the best and most knowledgeable in the industry. The judging process, using an independent panel made up of wealth industry experts, is based on a mixture of qualitative and quantitative performance indicators. Successful candidates have demonstrated exemplary performance in four critical categories: Financial Progress, Growth, Client Satisfaction, and Product Innovation.http://www.pammagazine.com.