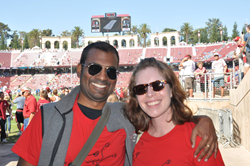 My husband Paul was diagnosed with stage IV lung cancer as a 36-year-old, and Team Draft has really helped boost our family's spirits during this challenging time. Team Draft raises awareness of lung cancer and empowers survivors in such a positive way.
Atlanta, GA (PRWEB) January 08, 2015
The winners of the inaugural Lung Cancer Survivors Super Bowl Challenge will enjoy trips to the Super Bowl, the NFL Pro Bowl and the Taste of the NFL this month as part of Team Draft's National Campaign to Change the Face of Lung Cancer. The winners are all lung cancer survivors with powerful stories to share about their often misunderstood disease.
"We are proud to honor these outstanding advocates who are changing the face of lung cancer by supporting promising research and programs that are giving lung cancer survivors more days, weeks , months and even years to treasure with their loved ones," said NFL veteran linebacker and Team Draft founder Chris Draft, whose wife Keasha, a non-smoker, died of lung cancer at the age of 38. Lung cancer survivors from across the U.S. competed in a friendly competition to raise funds to increase public awareness about the true nature of lung cancer and shatter misconceptions that it is a "smoker's disease."
The winner of the Challenge, Paul Kalanithi and his wife Lucy will attend the Taste of the NFL on January 31, 2015 and Super Bowl XLIX on February 1, 2015 at the University of Phoenix Stadium in Glendale, Arizona.
"We were thrilled to raise funds for Team Draft. My husband Paul was diagnosed with stage IV lung cancer as a 36-year-old, and Team Draft has really helped boost our family's spirits during this challenging time," said Lucy Kalanithi. "Team Draft raises awareness of lung cancer and empowers survivors in such a positive way. We've also had tremendous support from our friends and family, who really stepped up to contribute to the Lung Cancer Survivors Super Bowl Challenge. Paul is a huge football fan, and we can't wait to join Team Draft at Super Bowl XLIX!"
Paul was a Resident in Neurosurgery at Stanford University when he was diagnosed with stage IV lung cancer in June , 2013. He completed medical school at Yale before returning to Stanford to complete his residency and neurosurgical training. Dr. Kalanithi chronicled his lung cancer journey in an op-ed piece in the New York Times in January, 2014.
Challenge Runner-up Dan Powell of Greenville, South Carolina heads to the NFL Pro Bowl January 25th. "Going to the Pro Bowl is a dream come true. This time last year I was fighting for my life with the stage IV lung cancer diagnosis. We have had incredible support from my friends, family, my church, support groups, and cutting-edge treatment from St. Francis Cancer Center. I've learned through my cancer experience and support from Team Draft 'anything is possible and to never give up.' We are bringing in the new year with a trip to the Pro Bowl and I am stoked," said Powell.
Dan Powell is a fit and health-conscious non-smoker who has dedicated much of his professional career to preventing air pollution; he has served as Director of Air Quality for Greenville County, South Carolina. He was stunned when he got a diagnosis of stage IV lung cancer at the age of 35. A husband and father, Dan has reached out to other lung cancer survivors and spearheaded the creation of the first lung cancer support group in his part of the state in cooperation with his cancer center- St. Francis Bon Secours in Greenville. Dan is a native of Asheville, North Carolina.
Dan's guest at the Pro Bowl will be his friend Rick Owens who lives in Simpsonville, S.C. Dan describes Rick as one of his strongest supporters, and Dan has had the unforeseen opportunity to return the kindness since Rick was diagnosed with lung cancer in October of last year. Rick is also a non-smoker, and like tens of thousands of lung cancer patients, was shocked to learn of his diagnosis. Rick shares another bond with Team Draft- he works for Clemson University , the Alma Mater of the late Team Draft co-founder Keasha Draft.
Second Runner-up Samantha Mixon of St. Simons Island, Georgia is heading to the Taste of the NFL, a gala event taking place in the Super Bowl city the night before the big game. "We are super excited to be able to go to the Taste of NFL thanks to Team Draft and all of our amazing friends, family, and even strangers that supported us. God is so good, we are beyond blessed," said Samantha. Samantha Mixon was 38 when she was diagnosed with stage IV lung cancer two years ago. The mother of a young daughter, she pressed her doctor for a prognosis, and was given one year, perhaps eighteen months to live. Looking back, she says she regrets asking for that time line. "After almost a year I quit asking 'why me?' and became grateful that I know. I know I may not have much time left on this earth. Knowing that is a gift in itself. You see, I could get into an accident tomorrow and not survive. But that didn't happen. I was given a warning, not the ticket." Samantha grew up in Jonesboro, Georgia and frequently visits her mother in Atlanta where she has worked with the Free to Breathe Atlanta Lung Cancer Run. She also reaches many people through her blog about her lung cancer journey.
The survivors and physicians battling lung cancer face unique challenges due in part to the fact that lung cancer carries a stigma as the result of the widely held belief that lung cancer is a "smoker's disease"—a misconception that researchers and advocates agree contributes to the underfunding of research. By giving lung cancer survivors, researchers and treatment teams the opportunity to partner with organizations that reach diverse audiences, Team Draft is often able to connect lung cancer patients and their families with resources they would not have been otherwise aware of.
"There is hope, and there are remarkable new treatments being introduced at cancer centers all over the country. The progress is phenomenal and funding is critical to keep it moving forward," says Chris Draft "It takes a team to tackle lung cancer, and the Lung Cancer Survivors Super Bowl Challenge has expanded this amazing team. Keasha's legacy of hope lives and we are grateful to all who have contributed to lung cancer awareness, research, treatment and patient advocacy" said Draft.
.
About Team Draft
Team Draft is an initiative of the Chris Draft Family Foundation created by former NFL linebacker Chris Draft and his late wife Keasha during Keasha's year-long struggle with Stage IV Lung Cancer. After earning a degree in Electrical Engineering at Clemson University, Keasha went on to work for Sanofi -Aventis in pharmaceutical sales. As a former Charlotte Hornets Honeybee dancer and member of Clemson University's Rally Cat dance squad, Keasha was an energetic vibrant young woman who had never smoked when she was diagnosed with Stage IV Lung Cancer in December 2010. At the time, her only symptom was a slight shortness of breath a few days earlier. Despite the diagnosis and knowing the long odds they faced, Keasha and Chris decided to fight back. On November 27, 2011, they launched Team Draft at their wedding. One month later, Keasha lost her courageous fight and died at the age of 38.
Team Draft is committed to educating people about the true nature of lung cancer, raising funds for research and improving the lives of those affected by lung cancer. To learn more about Team Draft, share your story, or make a donation, please visit http://www.teamdraft.org.