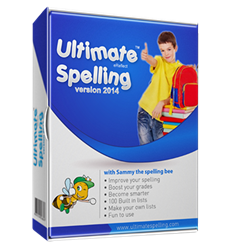 Technology is best considered as an aid, or an extension of human intelligence, the company notes.
New York City, NY (PRWEB) January 10, 2015
eReflect, designer of Ultimate Spelling™ software,discusses the importance of new technologies in the service of education and how new technologies are specifically essential in how people are taught spelling.
Ultimate Spelling™ is a state-of-the-art spelling software that many educators are teaching spelling with. Its user-friendliness, its learning gamification, and its rigorous scientific approach to structured spelling activities make it a teachers' favorite. These features are the result of the latest learning technologies introduced in the program, and they make the software more effective in how it is used for teaching spelling, as eReflect reveals.
The Ultimate Spelling™ designer refutes the arguments that technology makes people dumb or that people's reliance on spellcheckers robs them off their spelling skill. Technology is best considered as an aid, or an extension of human intelligence, the company notes. People can rely on their memory and brain to learn how to spell, but with the help of technology they can do it faster. A spelling tutor will help a user improve their orthography through fun games and pleasant spelling activities. eReflect asserts that worrying whether people's growing dependency on spellcheckers and autocorrect tools is making people forget how to spell is counterproductive. Instead, the company recommends people take advantage of technology as well as their own mental skills to practice the following three key self-improvement activities: learning new words with a vocabulary program, using their memory for recalling a word's spelling, and reading more often as a way of brushing up their spelling skills.
"Technology is not to be feared. Technology is what will help us grow. Instead of fearing that technology dumbs society down, we should focus instead on how much of our society's progress we owe to technological innovations. A spelling tutor will help you write better, but an autocorrect tool doesn't necessarily makes you forget your spelling knowledge. Once acquired, that knowledge can be retrieved and re-strengthened through rigorous practice," eReflect commented today.
Language is alive and it's a work in progress, the company concludes, just as technology continues to grow and develop. The more people learn and practice their language skill, no matter what tools they use, the better at it they become.
***********
For more information about how Ultimate Spelling software can improve spelling performance for you and your family, please visit the official website at http://www.ultimatespelling.com.
About Ultimate Spelling™
Ultimate Spelling provides a modern and easy to use spelling software that has been designed with one goal in mind – making children want to learn.
It is a fast and easy way to master even the most complicated spelling, without the need to write long lists or complete boring tests.
In fact, Ultimate Spelling provides more than just spelling help. It is a complete educational resource that boosts all level of a child's literacy.
Containing a personal computer tutor, Ultimate Spelling is the most realistic step-by-step guide to flawless spelling ability.