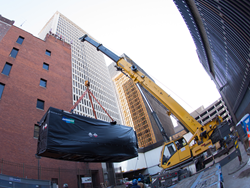 (PRWEB) January 08, 2015
Doosan Fuel Cell America Inc., a provider of fuel cell power systems based in South Windsor, and Becker + Becker, a sustainable development and architectural firm based in Fairfield, announced that a Doosan clean-energy fuel cell was delivered and installed today at the former Hartford National Bank building on 777 Main Street. Situated in the heart of downtown Hartford, the mid-century modern tower, originally built in 1967, is being converted into a green mixed-use apartment community by Becker + Becker.
"This is the third apartment building where we've utilized a PureCell® Model 400 fuel cell solution to create electricity and heat, which is a much cleaner, more energy-efficient alternative to conventional use of fossil fuels – eliminating over 99% of particulate pollution and significantly reducing the project's carbon footprint," said Bruce Becker, founder of Becker + Becker. "We take a holistic approach in our design to leverage all facets of energy savings, which is the reason Doosan, whose fuel cell solutions have supplied more than 11 million hours of secure, continuous power, is the logical choice for this project."
The leasing office for 777 Main opened this week and the first tenants are expected to move in this spring. The building renovation incorporates 285 apartments (including 59 affordable units) and will be downtown Hartford's largest apartment building. It will also include six retail shops, a gym, club room, library and 250-car parking garage, and has scheduled the Doosan PureCell® Model 400, which will help the project reach LEED Platinum certification, to begin powering the project later this year.
"Becker + Becker is recognized for undertaking projects that are social and environmental game-changers," says Kent McCord, director of market strategy for Doosan. "They transform urban sites to enrich and revitalize communities, which includes taking a long-term look at their return on energy investment, and Doosan is proud to be part of that equation.
"Low-cost, high-performance fuel cell systems are generating electrical power quietly and without pollution at more and more commercial buildings across America, and forward-thinking companies like Becker + Becker are helping to lead this evolution."
About Doosan Fuel Cell America, Inc.
Doosan Fuel Cell America, Inc. (Doosan) is a subsidiary of Doosan Corporation, a South Korea-based industrial company founded in 1896 that has current operations in 38 countries and has been a Fortune Global 2000 company since 2007. Doosan, headquartered in South Windsor, Connecticut, designs, engineers and manufactures fuel cells for commercial and industrial applications. Formed in July 2014 following Doosan Corporation's acquisition of ClearEdge Power (formerly UTC Power), Doosan is the U.S. arm of the Doosan Fuel Cell Business Group and focuses on 400-kilowatt phosphoric acid fuel cells capable of supplying combined heat and power to building and utility systems. With its growing team, and focus on innovation and technology leadership, Doosan's stated vision is to be the global leader in the fuel cell industry. For more information about Doosan Fuel Cell America, Inc., please visit http://www.doosanfuelcellamerica.com.
About Becker + Becker
Becker + Becker beckerandbecker.com seeks projects that are social and environmental game-changers: restoring underutilized historic buildings and transforming urban sites to enrich and revitalize communities. We pride ourselves on finding creating interdisciplinary solutions to complex urban challenges through a fully integrated design and development process. We believe inspired design and sustainable development must result from comprehensive understanding of how buildings should function, serve their users and impact the environment. The firm, founded in 1950, has been directed by Bruce Redman Becker, AIA, AICP, since 1987. More information about 777 Main Street can be found on the project's marketing website at 777MainStreet.com.
# # #
PureCell® is a registered trademark of Doosan Corporation. Other names may be trademarks of their respective owners.