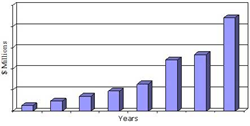 Global Market for Reverse Osmosis Membranes and Components Growing at 10.5% CAGR.
Wellesley, Mass. (PRWEB) January 08, 2015
BCC Research (http://www.bccresearch.com) reveals in its new report on reverse osmosis (RO) membranes and system components, with the increase in global population and the development of nations, the natural environment and its water resources inevitably are becoming degraded. Now and for the foreseeable future, RO provides an effective technology to turn otherwise useless water sources into usable water supplies.
The 2014 market for RO membranes and system components reached nearly $5.4 billion by year end. By 2019, the market for RO system components is projected to reach $8.8 billion with a compound annual growth rate (CAGR) of 10.5%, primarily driven by municipal water desalination applications, but also by process water treatment (pharmaceutical, power plant, and micro-electronics) and water reuse.
During the last five years, the Asia-Pacific region has overtaken the U.S. as the global leader in expenditures for RO equipment. China and India, with their rapid industrialization and vigorous GDP growths, will see the highest market share increases as they outstrip other nations in adopting the technology. A rebound of the Asian semiconductor sector will boost sales in traditionally large markets such as South Korea and Taiwan.
"The falling costs of RO over the past two decades have made the process competitive with more conventional water supply options," says BCC Research analyst Susan Hanft. "Factors contributing to price decreases include greater competition among equipment suppliers, improved productivity, reduced costs for membrane modules, enhanced energy recovery devices that cut plant energy requirements, and the global trend toward the privatization of water projects."
Major Reverse Osmosis System Components for Water Treatment: The Global Market examines the global market for RO systems used in water treatment. Existing and potential markets for RO system components on the global stage are identified with forecasts included through 2019.
Editors and reporters who wish to speak with the analyst should contact Steven Cumming at steven(dot)cumming(at)bccresearch(dot)com.
About BCC Research
BCC Research publishes market research reports that make organizations worldwide more profitable with intelligence that drives smart business decisions. These reports cover today's major industrial and technology sectors, including emerging markets. For more than 40 years we've helped customers identify new market opportunities with accurate and reliable data and insight, including market sizing, forecasting, industry overviews, and identification of significant trends and key market participants. We partner with analysts who are experts in specific areas of industry and technology, providing unbiased measurements and assessments of global markets. Recently selected as the world's greatest market research company, BCC Research is a unit of Eli Global, LLC. Visit our website at http://www.bccresearch.com. Contact us: (+1) 781-489-7301 (U.S. Eastern Time), or email information(at)bccresearch(dot)com.