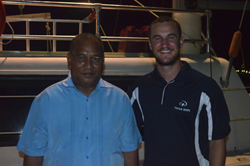 Kailua-Kona, Hawaii (PRWEB) January 09, 2015
Last Sunday morning YWAM Ships Kona reported that their vessel, the Hawaii Aloha was badly damaged in a storm in the Hawaiian Islands, resulting in the loss of 24-year-old crewman Aaron Bremner.
Aaron was set for his second deployment to the Christmas Islands this week before the tragic storm that grounded the Hawaii Aloha, along with at least five other boats in the area. His first voyage to Micronesia in 2014 resulted in over 3,500 health and training services delivered to some of the world's most isolated islands.
Last year President Christopher J Loeak of the Republic of Marshall Islands extended a 10-year invitation to YWAM Ships Kona requesting health care and educational initiatives.
President Loeak remembers Aaron's visit and expressed his great sorrow regarding the accident saying, "May the Lord give strength and comfort to the families and friends of Aaron and the YWAM Community."
President Loeak also acknowledged YWAM for their ongoing work in the Islands, "I would like to thank and commend YWAM for its tireless efforts in bringing much needed assistance to our islands and other parts of the world."
In the wake of tragedy, Aaron's mother Charlene Calish shares on behalf of her son.
"YWAM Ships Kona was the way Aaron chose to live out his passion and life's mission of loving God's people all around the world," she said in a letter to the organisation today.
Today, Hawaii Aloha should've been on its way to Micronesia with Aaron onboard. In the wake of tragedy, his family is hoping to ensure that help gets to the people Aaron cared so much about.
"We would be honored to see [Aaron's] passion continue through the program he believed in by requesting an Aaron Bremner Memorial Fund be set up for the purpose of replacing the Hawaii Aloha ship," Ms Calish said today. "This would help bring healing to the family and cause our hearts to humbly soar."
Those who wish to give to the Aaron Bremner Memorial Fund can do so at http://www.ywamships.net