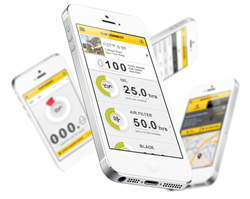 Cleveland, OH (PRWEB) January 08, 2015
This year's CES has a healthy dose of CLE. The Cub Connect™ mobile app, designed and developed by Recess Creative for Cub Cadet, has been named as a finalist at the Bluetooth Breakthrough Awards at this year's Consumer Electronics Show. The first-of-its-kind app was named a finalist in the international awards competition for its use of Low Energy Bluetooth (BLE) technology to wirelessly connect mobile devices directly to certain Cub Cadet mowers.
"This is one of those special moments where we blend existing mobile technology with cutting edge hardware, finding new ways to delight users," said Chris Jungjohann, Managing Partner of Recess Creative. "When we were first developing the idea for the app, we really wanted to do something no one else in the market was doing."
The app enables owners of the new Cub Cadet XT Enduro series™ of lawn tractors and other Cub Cadet mowers to access information about needed oil changes, blade maintenance, air filter replacements and other routine maintenance. All of the vital information is displayed on the app's home screen dashboard, which tracks total running hours and other key vitals over the life of the mower.
"Some of the most utility-focused parts of the app turned out to be some of the coolest parts," said Tim Zeller, Managing Partner and Executive Creative Director at Recess Creative. "It provides access to DIY maintenance instructions with step-by-step videos, the ability to purchase parts right from the app and a link to Cub Cadet's customer service department."
"It's great to be able to create leading edge technology with innovative local partners," said Zeller. "Being among the first to develop a Low Energy Bluetooth enabled app was really exciting for us. Another great part of this project was collaborating with other local Cleveland companies to push technology in the region forward."
The Bluetooth Breakthrough Awards is the official awards program of the Bluetooth Special Interest Group and is dedicated to showcasing the most innovative new ways of using the Bluetooth wireless standard. The Cub Connect™ mobile app joins finalist products from companies such as Microsoft and Proctor and Gamble. The overall winner will be announced at the Mobile World Congress on March 1, 2015, in Barcelona.
About Recess:
Recess Creative is a full-service digital advertising and integrated marketing agency based in Downtown Cleveland. Right now we're probably building a mobile app, designing a solid brand strategy or playing some kickball. You know, a typical day at the office. It's our mission to invent experiences that use the language of play to emotionally connect brands to their audiences and deliver results. Our clients include KeyBank, SONY Pictures Television, The Cleveland Airport System, Cleveland Water, Iron Chef Marc Forgione and MTD Products. For more information about Recess Creative, visit http://www.RecessCreative.com.
About Cub Cadet
For more than half a century, Cub Cadet lawn and garden tractors have been proudly built in America. Established in 1961, Cub Cadet engineers continue to design and build outdoor power equipment using the highest quality components sourced locally and globally. Through a dedicated and extensive network of dealers and retailers, Cub Cadet delivers a full line of high performance power equipment and services that cover all aspects of grounds care for professionals and homeowners – including four-wheel steer zero-turn riders; lap bar zero-turn riders; utility vehicles; lawn and garden tractors, lithium ion- and gasoline-powered handheld and chore products; snow throwers and more. Based in Valley City, Ohio, Cub Cadet is recognized worldwide for its legacy in engineering excellence and its progressive dedication to exceeding owner expectations by delivering on its promise of better products, a better experience and better results. For more information on all Cub Cadet products, visit http://www.CubCadet.com.