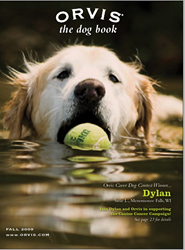 Thank you to Orvis and to Orvis customers for showing your love of dogs in such a meaningful and impactful way."
Sunderland, VT (PRWEB) January 08, 2015
To dog-lovers, dogs aren't just pets, they're family. So when canine cancer claims a victim, a whole family suffers. One in four dogs will battle this disease in their lifetime, with half of them dying long before their time. In response, The Orvis Company announced today that Orvis customers have raised over a million dollars for canine cancer research through the Orvis Cover Dog Photo Contest. All funds raised have benefited Morris Animal Foundation's efforts to prevent, treat and cure the disease.
"Morris is doing such amazing work year after year after, decade after decade, this is an effort that needs our support," said Perk Perkins, CEO of the Orvis Company in a video posted on the company's home page this week at Orvis.com.
For the past five years the company has been inviting its customers to submit pictures of the family pooch to be considered for inclusion on the cover of the Orvis catalog. Customers then can vote on the picture they believe should be on the cover. Every vote costs a dollar and every penny goes to Morris Animal Foundation.
"I love the fact that this somewhat random idea of a photo contest led to a flood of submissions. In my wildest dreams I had no idea so many customers would send in so many amazing photographs of all types of dogs," said Perkins. "It's been a fun job and it's been a big job. We've had over 100,000 submissions and 50 winners to date, and an untold number of donations that resulted in over a million dollars going to canine cancer research... We're making a difference."
The impact of the contest is substantial. Eleven major colleges of veterinary medicine are conducting canine cancer studies funded by Morris Animal Foundation. Through Orvis' support, the Foundation was able to develop:

A multi-college program designed to train scientists
A more reliable test for predicting the spread of cancer
A potential new treatment option for tumors that would improve the quality and length of life of companion animals
Technology that will improve management of brain tumor cases and replace invasive tissue sampling in the brain and elsewhere in the body
"The support of the Orvis Company and Orvis customers has been a big boost to our efforts. Not only has the contest raised vital funds, but we have also gained thousands of new supporters," said Roxanne Davis, Director of Organizational Giving at Morris Animal Foundation. "Thank you to Orvis and to Orvis customers for showing your love of dogs in such a meaningful and impactful way."
You can watch "Million Dollar Dogs: The Inspiring Story Behind The Orvis Cover Dog Contest" at http://www.orvis.com.
About The Orvis Company:
Founded in 1856, Orvis pioneered the mail order industry in the United States, operates more than 80 retail stores in the U.S and the U.K., including its Flagship store in Manchester, VT; and maintains a network of over 400 dealers worldwide. The oldest continuously operating catalog company in the country, Orvis is the premier outfitter of outdoor adventures. A leading corporate steward for the environment, Orvis contributes 5% of its pre-tax profits to protect nature, support communities and advance canine health and well-being. Learn more at http://www.orvis.com.
About Morris Animal Foundation:
Morris Animal Foundation is a nonprofit organization that invests in science to advance animal health. The Foundation is a global leader in funding scientific studies for companion animals, horses and wildlife. Since its founding in 1948, Morris Animal Foundation has invested more than $92 million toward 2,300 studies that have led to significant breakthroughs in diagnostics, treatments, preventions and cures for animals worldwide. Learn more at http://www.MorrisAnimalFoundation.org.