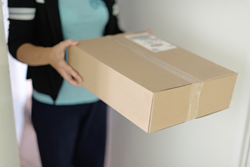 Atlanta, GA (PRWEB) January 09, 2015
AQuickDelivery, a recognized leader for same-day delivery and transportation services announces its Rush same-day delivery services. The announcement comes in an effort to market its variety of service options to meet its customers' courier needs, promote customer loyalty and increase online courier sales. The Atlanta courier is a premier one-stop courier that offers same-day delivery logistic solutions throughout Atlanta.
The Rush same-day delivery service is accessible on AQuickDelivery's comprehensive website and offered during the weekdays. When requesting an online quote, the Rush same-day delivery option will be available to select with pricing, based primarily from zip code to zip code. Orders can be placed via phone or online.
The Rush service is beneficial to customers, as it offers the ability to have their courier service completed quickly within approximately 1.5 hours, which is faster then AQuickDelivery's Standard 2.5 hour service. This mid-grade service provides the savings of a slower delivery and is available until 3:30pm daily. This gives businesses and residential customers an adequate amount of service time during the business week.
For even a faster service during the day, after-business hours or weekend service, the courier offers its' Direct One-Hour Service. Customers can have their package picked up within the first 30 minutes from the ready time of their order. An AQuickDelivery driver will then travel directly to the requested destination. For any questions or service adjustments, AQuickDelivery is available 24/7 to assist its' customers with optimal courier solutions and premium value-added same-day delivery services.
AQuickDelivery is a premier same-day courier offering transportation and distribution services. From small packages to palletized freight, AQuickDelivery delivers fast. As a leader in the courier industry, its' goal is to perform optimal courier logistic solutions and superior customer service every time. The courier service provides same-day delivery successfully for over 1,500 clients, including Fortune 500 companies throughout the Georgia area.