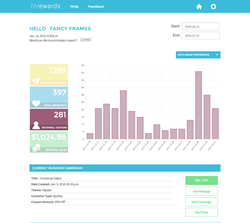 "From install to setup Forewards is one of the easiest marketing tools I've ever used"
Toronto, Canada (PRWEB) January 27, 2015
Forewards announced today the launch of a new version of their word of mouth marketing platform for Shopify.
Forewards' new advanced analytics dashboard and configuration wizards provide busy online business owners with the tools they need to amplify their word of mouth marketing, increase customer referrals, and quickly respond to trends with data driven decisions.
"Our goal at Paul Evans is to build a global brand that changes the way men look at their shoes. Word of mouth and customer perception is integral to that," said Evan Fript, Co-founder and CEO of Paul Evans. "From install to setup Forewards is one of the easiest marketing tools I've ever used and gives us a great way to engage with our customers to help us increase our word of mouth"
This latest Forewards release includes a variety of features that help improve referral program performance over time including:

Deep analytics including historical analysis and trending allowing businesses to understand and respond to referral trends over time
Improved customer engagement tracking with message touch point configuration
Additional campaign editing options, allowing brands to white-label their customer referral program
Research from Neilson has found that consumers overwhelmingly trust referrals and word of mouth over all other forms of advertising. In fact 84% of consumers polled indicated that they trust recommendations from people they know.
Forewards allows small to mid-sized ecommerce businesses to quickly tap into the power of online word of mouth to organically grow their brands.
"Winning the hearts and minds of consumers is the hardest part of building a brand." says Peter Lee, CEO of Forewards "Your brand is no longer what you tell consumers it is; your brand is what consumers tell each other it is. We built Forewards to allow even the busiest store owner to tap into the power of word of mouth in seconds."
Forewards with these new features is available for download from the Shopify App Store
About Forewards:
Forewards makes it easy for small business owners, like you, to improve your online marketing efforts by embracing the power of customer referrals. We built our own business through word of mouth and know the power of customers referring other customers.
That's why we've made Forewards the easiest, most effective way to reward your loyal customers for helping you share your brand online.
Fore more information about Forewards referral marketing software visit: forewardsapp.com
For more information:
Jason Dea
Email: jason(at)forewardsapp(dot)com
Phone: 647-693-9436