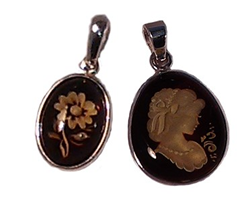 Treasure Hut introduces the introduction of Amber.
Dewitt, NY (PRWEB) January 12, 2015
Baltic Amber owes its exceptional charm to its fascinating history spanning the period from the times when it was sticky resin dripping in the Tertiary forest to the point when it was found as a small solid nugget on the Baltic beach. Amber-yielding forests grew in the area of what is now northern Europe. Bulky pieces of Baltic Amber weigh even more than 5 pounds, as well as beautiful drops which are sometimes very small.
Baltic Amber has been believed to have medicinal and therapeutic powers. The first records of its beneficial properties can be found in descriptions by Pliny the Elder and Hippocrates. The light and warm gemstone gives off a pleasant scent when warmed in the hands and a tacky smell when burnt. For centuries Amber was considered to be one of the most important medicines. Today it is known that Baltic Amber contains from 2 to 8% Amber acid. Scientific tests have proven its beneficial effect on living organisms.
Within a few thousand years, Baltic Amber, became a legendary and popular charm and decorative stone. Today, just like ages ago, Amber is one of the most highly valued and fashionable stones in the world. Artistic Amber works are used to decorate royal chambers. The unmatched variety and beauty of Amber colors and its beneficial influence on our health and well-being makes Amber jewelry more likely to be worn with casual clothing. The more luxury versions are used as decorations for special occasions.
Many designers work with Amber. It is also a favorite material for artists to use for creating unique artwork. Amber is usually set in gold or silver and often in combination with other precious stones including diamonds.
Treasure Hut Jewelry offers Amber and custom-made wedding pearls and jewelry in Syracuse New York. Along with the company's unique jewelry design, they specialize in jewelry and eyeglass repair. These services include antique jewelry repair, antique watch repair, gold and silver jewelry repair, costume jewelry repair, sunglasses repair and eyeglasses repair.
Learn more about Treasure Hut Jewelry at http://www.treasurehutjewelry.com
Contact Samantha Varneke for more information regarding Baltic Amber.
Company Contact
Samantha Varneke
717-932-2012
svarneke(at)treasurehutjewelry(dot)com